Motoman Wins Manufacturer of the Year Award for 2007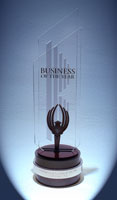 Friday, January 18, 2008 (Robotics Online ) – Motoman Inc., a leading industrial robotics company headquartered in West Carrollton, Ohio, has been named ''Manufacturing Business of the Year for 2007'' in the sixth annual Business of the Year program sponsored by the Dayton Business Journal (DBJ) and Soin International.
Entries were judged on written responses regarding: sales and earnings from local business units for the past five years; why 2007 has been a noteworthy year for the business; the company's strategic plan for the business for the next five years; community service projects or charitable contributions the company made; how the company formally measures customer satisfaction and loyalty; management's relationship with employees; and other examples of leadership.
Motoman continues to significantly outperform the robotics industry in both units and dollar performance. In the first half of 2007, robot industry growth was 29% in units and 11% in dollars – while Motoman's growth far exceeded the industry's numbers, based on record orders booked in the first half. This stellar performance is the result of Motoman's strategic diversification among a wide range of industries and applications, as well as the company's commitment to world-class quality and total customer satisfaction.
In addition, Motoman continues to lead the industry with innovative robots and related products. Motoman's new product introductions in 2007 include the SSA2000 (the world's fastest arc welding robot), and the dual-arm, 15-axis DIA10 robot that joins the 13-axis DA20 and 7-axis IA20 models introduced in late 2006. Revolutionary designs provide tremendous flexibility, allowing Motoman robots to perform operations that formerly could only be done by human workers and opening up new applications to robots.
Customer satisfaction was another criteria for the award. A key part of Motoman's mission is to deliver the highest level of Customer Satisfaction in the automation industry. In FY2006, Motoman received the highest Customer Satisfaction score in our history on our Annual Customer Satisfaction Survey: a 4.55 rating out of a 5.0 possible scale.
Motoman Senior Vice-President and Chief Financial Officer, Steve Barhorst, accepted the honors on the company's behalf at an awards gala held November 29 at the Schuster Center in downtown Dayton, Ohio. Also representing Motoman were Doug Schenher, Vice President – Customer Satisfaction Group, Mike Gabbard, Vice President - Human Resources and Facilities, and Tom Bryant, Senior Director – Standards and Logistics Group
Motoman also won the DBJ Manufacturing Business of the Year award in 2003, and Motoman's President and COO, Craig Jennings, was named DBJ's ''Business Executive of the Year for 2004.'' In 2007, Motoman also received a Governor's Excellence in Exporting (Ohio ''E-Award'') and was named a Better Business Bureau Eclipse 2007 Award Finalist. In previous years, Motoman has received a multitude of industry and business awards recognizing the company for quality, exemplary business practices, industry leadership, product innovation, workplace safety, excellence in performance as a supplier, and overall success as a manufacturing business.
Motoman provides robots and complete robotic automation for virtually every application and industry. Founded in 1989, Motoman has continually gained market share and is now one of the largest robotic solution providers in North and South America with more than 28,000 robotic installations. Motoman's parent, Yaskawa Electric Corporation, is the world's leading robot manufacturer with an installed base of nearly 200,000 robots.
Motoman is a Platinum Member of Robotic Industries Association. For more information on Motoman products and services, call 937.847.6200, write to Motoman Inc., 805 Liberty Lane, West Carrollton, Ohio, USA 45449, or visit the corporate website at www.motoman.com (http://www.motoman.com/).

Source:
Motoman Inc.
Sally Fairchild
(937) 847-3202