Motoman's MPL-Series Robots High-Performance, Compact Master Palletizing Solutions
Day

ton, Ohio — Designed specifically for palletizing, Motoman's MPL-series "Master Palletizing" robots are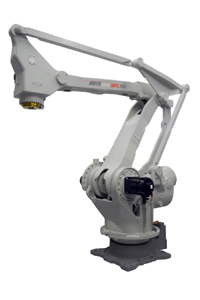 available in 80-, 100-, 160-, 300- 500- and 800-kg payload models for a wide range
of applications. These high-performance palletizing robots offer the highest allowable wrist moment of inertia ratings.

The four-axis, higher-payload MPL-series models feature a large reach and wide 360-degree envelope, enabling them to accommodate multiple infeed conveyors and pallet build locations. Internally routed air hoses and wiring through all four robot axes virtually eliminate cable and hose wear. In addition to the traditional cabling, these robots include a path for the installation of a fieldbus cable to allow control of the robot tool using DeviceNet, Profibus, Ethernet I/P or other device level network. This unique design culminates in a hollow wrist that provides high reliability for cables and hoses that are traditionally a maintenance problem for industrial robots.

The smaller five-axis MPL80 model is ideal for end-of-line palletizing solutions that require a smaller footprint.





The design of the MPL robots eliminates interference zones within the work envelope. Fast axial speeds reduce cycle time and increase production output. The economical MPL models provide the advantages of high-speed, high-performance palletizing combined with a slim wrist and compact design.

EasyPallet™ Pendant and PC-based off-line programming software are available as options to simplify programming of palletizing applications.

MPL-series robots use the advanced DX100 controller that features a robust PC architecture, Windows® CE programming pendant and easy-to-use INFORM IV programming language.

Motoman is a wholly owned subsidiary of Yasakawa Electric Corporation, a worldwide leader in mechatronics and robots. We provide world-class robotic automation solutions for a wide variety of applications including arc and spot welding, assembly, coating, dispensing, material cutting, material removal, picking, packaging, palletizing, machine tending, press tending and other general material handling applications.

Source:
Motoman Inc.
Sally Fairchild
(937) 847-3202