Motoman Receives 2007 Governor's Excellence in Exporting Award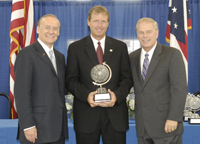 Dayton, Ohio — Motoman Inc., a world-leading provider of robots and complete robotic automation solutions, was one of 31 Ohio-based businesses honored to receive a 2007 Governor's Excellence in Exporting Award. Governor Ted Strickland presented these 'E' Awards on behalf of the Ohio Department of Development International Trade Division to recognize companies and organizations of all sizes that have demonstrated outstanding performance in exporting or heightened awareness of exporting as a vital component of the state's economy. Since 1985, these Ohio 'E' awards have recognized the contribution of companies that help make Ohio the nation's eighth largest exporting state, with nearly $37.8 billion in export goods in 2006, an 8.7% increase over the previous year.
Motoman's Senior Vice President and CFO, Steve Barhorst, accepted the glass globe award trophy and 'E' Award flag on behalf of the company. Tom Bryant, Senior Director of Motoman's Standards & Logistics Group, also attended the luncheon ceremony at the Statehouse Atrium in Columbus on July 18.
Motoman sets itself apart from competitors via development of value-added equipment (for example, part positioners, 'World' solutions, etc.) offered with the base robot product. The large majority of this value-added equipment is designed and built in the greater Dayton area, either by Motoman's Advanced Systems Group at the company's headquarters in West Carrollton, Ohio, or at Motoman's manufacturing and research and development facility in Troy, Ohio. Motoman also has regional facilities in Detroit, Michigan and Irvine, California.
Motoman's ability to offer complete robotic solutions (including peripheral equipment), and commitment to total customer satisfaction has helped Motoman grow into the second largest robot company in North America.
Motoman exports robots and complete robotic system solutions to several countries, primarily in Canada, Mexico, Brazil, Columbia, Argentina, and most recently, China. Western hemisphere Motoman subsidiaries are located in Mississauga and Montreal, Canada; Aguascalientes and Monterrey, Mexico; and Sao Paulo, Brazil. Export sales have increased from 18% of total sales in 2003 when Motoman was also recognized with an E-award, to just over 26% in 2006. This increase in export sales helped buffer the 30+% downturn in the U.S. robotics market in 2006.
Motoman Inc. is a wholly owned subsidiary of Yaskawa Electric America, a Western Hemisphere leader in motion control products (mechatronics). Motoman's parent company, Yaskawa Electric Company, based in Kitakyushu, Japan, is the worldwide leader in mechatronics and robots, with an installed base of over 160,000 robots.
For more information on Motoman products and services, visit the corporate web site at www.motoman.com, call 937.847.6200, or write to Motoman Inc., 805 Liberty Lane, West Carrollton, Ohio, USA 45449.