Motoman Offers Digital Interface to MedWeld 5000 Spot Welding Timer
Dayton, Ohio — A new digital programming interface is available for spot welding applications that use a MedWeld 5000 spot timer along with Motoman robots with NX100 controller(s). The low-cost interface requires minimal hardware and provides network capability for multiple robot control (up to four Motoman robots). It includes both sequencing and programming functionality from the Motoman NX100 controller. During production, the timer is sequenced by I/O signals communicated via Ethernet I/P. INFORM III spot welding commands in the robot program select weld schedules, initiate the welding cycle, and wait for the timer to signal that the weld is complete.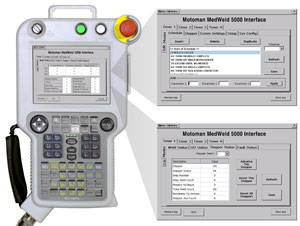 The interface provides the ability to program and monitor information from the Medar 5000 timer via a teach pendant application. Windows and pull-down menus on the teach pendant are used to insert Medar instructions into programs on the timer. As instructions are inserted, windows are provided for entering parameter values. This interface provides full Medar functionality, as supported in Weld Technology Corporation's Weld Gateway personal computer programming application. Stepper files are also supported, along with weld monitoring diagnostics. Each timer supports up to 255 weld programs. Using a PCI Ethernet I/P communications board, up to four timers can be networked from a single NX100 controller.
The new interface for the MedWeld 5000 supplements Motoman's Integrated Weld Control (IWC) for the MedWeld 3006 timer. The digital interfaces to these timers complement Motoman's advances in integrated spot dress, servo gun control and multiple robot control.
For more information on Motoman products and services, visit the corporate website at www.motoman.com, call 937.847.6200 or write to Motoman Inc., 805 Liberty Lane, West Carrollton, Ohio, USA 45449.


CONTACT:
Sally Fairchild
937.847.3202