Motoman Expands its South American Operations
Motoman Robotica do Brasil Moves to Larger Facility in Sao Paulo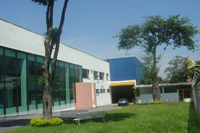 Dayton, Ohio — On June 1, Motoman's South American subsidiary in Brazil, Motoman Robotica do Brasil, officially opened its new, expanded facility in the Grand Sao Paulo area in the city of Sao Bernardo do Campo. Home to 17 employees plus several contractors, the new 21,000-sq. ft. facility is approximately 30 percent larger, providing additional space for manufacturing, office, a demo lab area, and training room.
'The new facility was necessary to better serve our customers by allowing us to build larger systems, and to develop and showcase new technology in our new demo area,' said Icaru Sakuyoshi, General Manager of Motoman's Brazil operation.
Since 2001, when the focus of their business shifted from selling 'robots only' to providing complete, turnkey robotic automation solutions direct to end-customers, Motoman's business in Brazil has grown dramatically. Now, 70% percent of the revenue they generate is supported by sales on turnkey projects. Motoman's overall market share in Brazil continues to rise. In 2006, they reached a 45 percent market share in arc welding applications, making Motoman the industry leader in that segment.
Please note the following new address and contact numbers: Motoman Robotica do Brasil, Via Anchieta, km 22,5 – n.129, San Bernardo do Campo – SP – Brazil 09823-000 Brazil.
Tel: 011-5511-4352-3002, Fax: 011-5511-4352-3338.
For more information Motoman products and services, visit our corporate web site at www.motoman.com, call 937.847.6200 or write to Motoman Inc., 805 Liberty Lane, West Carrollton, Ohio, USA 45449.