Motoman Expands Clinical Laboratory Automation Capabilities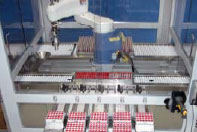 Dayton, Ohio — Motoman Inc., a world leader in robotic automation and a provider of high-volume clinical laboratory specimen processing to the country's largest reference laboratories, now introduces reliable, robust automation solutions for medium-volume laboratories in hospitals and medical centers.
Based on the company's extensive automation expertise in a wide variety of applications and industries, Motoman provides clinical laboratory specimen processing solutions for sorting; aliquoting; decapping/recapping; thawing/mixing; and archive storage and retrieval.
Motoman offers a range of standard platforms (AutoSorter™ I/II/III), but is uniquely able to customize the standard platforms and develop unique work cells to meet each laboratory's unique specimen processing needs.
AutoSorter I is a high-speed specimen sorter with a very large sortation area. In use since 1999, AutoSorter can sort specimens into hundreds of target groups simultaneously at rates between 1,000 and 2,000 specimens per hour. AutoSorter allows processing of a multitude of specimen configurations and interfaces with laboratory information systems to guide the processing sequence of each specimen and report its history.
Ideal for high-volume specimen processing, AutoSorter II can sort up to 1,000 tubes per hour and may be configured to include sorting, decapping/recapping, specimen inspection (cap color determination), and specimen disposal. AutoSorter II utilizes industrial automation technology to assure exceptional uptime with minimal maintenance and downtime.
The new AutoSorter III is a compact, fully integrated pre- and post-clinical specimen processing platform for the hospital and medical center laboratory environment. Designed to relieve laboratory staff of repetitive tasks, AutoSorter III operates independently, providing accurate, reliable specimen sorting, centrifugation and decapping, as well as post-clinical archive consolidation.
Like other AutoSorter platforms, AutoSorter III permits use of a wide variety of specimen tube configurations and instrument racks. It may be used as a stand-alone workcell for specimen processing, or may be connected to a track system for direct transfer of specimens to and from diagnostic instruments.
Motoman is the solutions provider of parent Yaskawa Electric Corporation, a $3 billion global leader in automation technology. Unlike diagnostic instrument suppliers that also offer automation, Motoman's primary focus is providing world-class solutions to meet our customers' process improvement and automation challenges. Whether providing a single specimen processing workcell or a complete integrated system to solve the processing requirements of a high-volume reference laboratory, Motoman is committed to helping each customer achieve automation success.
For more information on solutions for the clinical laboratory environment or other Motoman products and services, visit our corporate web site at www.motoman.com, call 937.847.6200 or write to Motoman Inc., 805 Liberty Lane, West Carrollton, Ohio, USA 45449.

CONTACT:
Craig Rubenstein
949.263.2648