Motion Controls Robotics to Exhibit New Flexible Automation Solutions for Palletizing and Case Packing at PACK EXPO International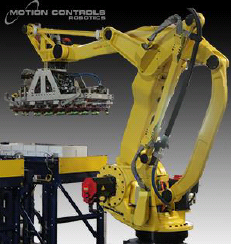 Motion Controls Robotics, Inc (MCRI) will introduce new automation options for the packaging industry during PACK EXPO International 2014, November 2-5 at McCormick Place in Chicago. A newly designed palletizing solution employing a Servo Adjustable End of Arm Tool and random case packing solutions will be shown in booth N-4940. Motion Controls Robotics is a FANUC Authorized Integrator that has been designing and installing quality robotic solutions for nearly 20 years. During this time MCRI has focused on developing flexible solutions for a variety of industries and applications, with specialization in palletizing and case packing.
PACK EXPO International is an annual event that brings 45,000 people interested in learning about the newest advances in packaging. "There has never been a more exciting time for packaging and automated material handling," according to Earl Raynal Jr., MCRI Sales Manager. "New technology developments in automation hardware and software accompanied by increased demand from corporations with previously pent-up capital purchasing plans is driving a record amount of activity in a wide range of production and warehousing. We expect to see record crowds and new, innovative solutions to common packaging and material handling challenges."

MCRI knows that a key obstacle for most packaging customers is finding a flexible solution that quickly and easily adjusts to changes, whether it be case size and shape or pallet arrangement. In MCRI's booth N-4940 the goal is to exhibit the most cost efficient way to pack and palletize our customers' products using new, flexible solutions. For this reason, there will be an in-booth education session created for end users of robotic palletizing and packaging systems. This 30 minute session, Case Packing and Palletizing End of Arm Tool Selection – Tips and Application Guidelines, will start at 9:30am Monday, November 3.
In addition, Motion Controls Robotics has partnered with Combi Packaging Systems to present the new Ergobot. The Ergobot is a robotic pick and place case packing system, based on the proven Combi Ergopack® manual case packing system. During the show the Ergobot can be seen in action in Combi's booth N-4721. A Motion Controls Robotics representative will be available in their booth to discuss this new case packing solution.
All attendees to the Motion Controls Robotics' booth N-4940 will get a chance to register to win a Phantom Quadcopter. To be entered in the drawing twice use MCRI's free customer invite for the first entry and then visit the booth for another chance to win.
Visit Motion Controls Robotics' Booth N-4940 - To set up a meeting with a MCRI Sales Contact during PACK EXPO, contact Earl Raynal Jr, Sales Manager at (419) 334-5886.