Motion Controls Robotics Receives Safety Award
FREMONT, OH – Motion Controls Robotics Inc (MCRI) participated in The Sandusky County Safety Council's "Above and Beyond" competition receiving a third place award totaling $750.00 to use for continuing improvements and advancements in the area of safety. The Sandusky Safety Council's "Above and Beyond" competition is an annual event that honors companies located in Sandusky County for purposeful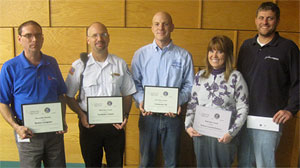 improvements in their safety and health issues. Also receiving awards were Sandusky County EMS (first place), Carmeuse NA (second place), and honorable mention winner Bemis Company.

Motion Controls Robotics' safety group has made it a priority to be proactive in providing safety training to ensure compliance with all safety initiatives set forth, not only by facility goals, but also RIA's Safety Standards for robot integrators. In 2014, nine employees attended a ten hour OSHA training course. The team brought back important safety issues to focus on going forward. One item that came to their attention during the OSHA training was the elimination of ladder usage in the workplace. OSHA views ladders as dangerous and removing them from the environment is beneficial to overall safety.

Dawn Rhodes, HR and Safety Specialist at Motion Controls Robotics, explained,

"We determined that an electric boom lift would substantially reduce ladder use. The lift would increase quality and productivity by removing the manual aspects that are required when using a ladder. In addition, the flexible nature of the boom would save time and provide better access to areas that were previously out of or hard to reach."

MCRI has not previously had any accidents involving ladders, and their proactive approach of changing current practices, not only curtails future incidents, but encourages employees to look for other ways safety can be improved in the facility. In this way MCRI has gone "Above and Beyond" in promoting safety awareness in Sandusky County.

"Criteria for judging (the "Above and Beyond" contest), which was done by the safety council members in attendance, included: a clear presentation of the project; a demonstration that the project reduced injuries or had the potential to reduce injuries; an increase in safety awareness throughout the facility; the project was cost effective; productivity/efficiency was improved." explains Jim Miranda, Manager of Sandusky County Safety Council.

Motion Controls Robotics plans to continue their push toward proactive safety improvements. If you have any questions about this release, contact Dawn Rhodes at (419) 334-5886 or hr@motioncontrolsrobotics.com.

About Motion Controls Robotics
Founded in 1995, Motion Controls Robotics is a leading provider of automation solutions to manufacturing industries. The company provides full service robotic solutions from concept to installation and service/support that keep manufacturers competitive. Motion Controls Robotics creates solutions for Fortune 500 and small to medium-sized manufacturers in general industries, food, food containers, building products, plastics, tier one and two automotive businesses. They also automate small production shops and machine job shops. Motion Controls Robotics provides automation solutions to manufacturers for a variety of applications including material handling (case packing, palletizing and machine tending), and vision-guided systems. Motion Controls Robotics is an exclusive Level 4 Certified Servicing Integrator for FANUC Robotics, and a SmartCart Automatic Guided Cart Value Added Reseller (VAR) for Daifuku Webb.

Motion Controls Robotics' northwest Ohio headquarters is located at 1500 Walter Avenue, Fremont, Ohio.