Motion Controls Robotics Receives Prestigious Awards from FANUC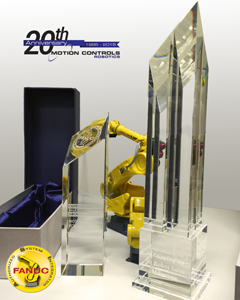 Motion Controls Robotics, Inc honored with two prestigious awards at the 2015 FANUC America Integrators Conference in Orlando, Florida.
Fremont, Ohio - Motion Controls Robotics, Inc (MCRI) continues to celebrate their 20th anniversary as a robotic systems integrator by receiving two prestigious awards at the recent 2015 FANUC America Integrator's Conference in Orlando, Florida.
FANUC holds this annual integrators' conference to present new technology and innovations to their network of integrators as part of FANUC's ongoing commitment to their integrators. FANUC's dedication to robots and automation is the main reason MCRI chose to become a FANUC Authorized System Integrator.
This year at the conference MCRI received the 2014 Sales and Leadership Award. This is the 8th year in a row that Motion Controls Robotics has received this award, and the first year that FANUC's 50+ robot sales milestone was reached. This milestone is given to any integrator that has purchased 50 or more robots in a year for use in robot systems.
Motion Controls Robotics also received their fifth Outstanding Sales Growth award from FANUC for leadership in sales and integration in 2014.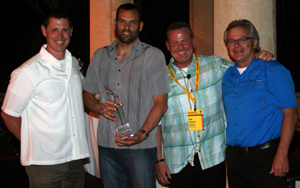 Scott Lang, President, commented, "The key to this long term success and growth is providing well engineered solutions, paying attention to customers' needs and delivering excellent service for every one of our customers' systems."
In Motion Controls Robotics' 20th year in the robotics integration industry, they plan to continue to grow robot sales and improve upon current automation solutions. To experience what a FANUC Authorized System Integrator can do to improve manufacturing processes visit the Motion Controls Robotics 20th Anniversary Open House on July 23 and 24, 2015 in Fremont, Ohio.
About Motion Controls Robotics
Founded in 1995 and celebrating 20 years of continuous growth, Motion Controls Robotics is a leading provider of automation solutions to manufacturing industries. The company provides full service robotic solutions from concept to installation and service/support that keep manufacturers competitive. Motion Controls Robotics creates solutions for Fortune 500 and small to medium-sized companies in the food & beverage, plastics, building & construction materials, converting, manufacturing and board & sheet goods industries. They also automate small production shops and machine job shops. Motion Controls Robotics provides automation solutions to manufacturers for a variety of applications including material handling (case packing, palletizing and machine tending), and vision-guided systems. Motion Controls Robotics is an exclusive Level 4 Certified Servicing Integrator for FANUC Robotics, and a SmartCart Automatic Guided Cart Value Added Reseller (VAR) for Daifuku Webb.
Company Contact
Nicole Busenbark - Marketing Assistant
Tel: 419-334-5886 x259