Motion Controls Robotics Introduces the Robotic Case Packer
FREMONT, Ohio, May 28, 2009 – Motion Controls Robotics, a leading provider of fully integrated material handling robotic systems, introduces the Robotic Case Packer. The Robotic Case Packer is a pre-engineered robotic system designed for case packing bottles using a six-axis robot.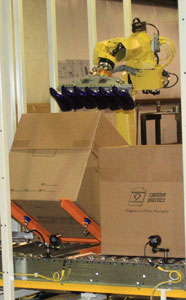 The Robotic Case packer system allows bottles to be automatically packed into unlined or lined corrugated pre-erected cases. Bottles are fed into the system via flat top conveyor and transferred onto the system's conveyor. Erected cases are placed on the case conveyor and are automatically registered for packing. Packed cases exit the system for easy removal. The bottles may be stacked, upright, inverted and horizontal using automatic tool changers. The case packer can be purchased for a double line configuration. The Double Case Packer can pack two different style bottles and cases at the same time from two separate lines, minimizing capital investment.
Flexibility is designed into the system since it can be moved easily from mold machine to mold machine, via fork truck. The system includes an easy access door for changeover adjustments and to access machine tooling. The Robotic Case Packer has a standalone design requiring only air and power drops and can be installed in as little as one day.
"The Robotic Case Packer system provides labor savings of up to two people per shift, helping to reduce overall costs," said Scott Lang, President, Motion Controls Robotics, Inc. "The automated system also allows for the reduction of worker compensation costs and requires minimum floor space.
The tooling for the Robotic Case Packer system is interchangeable and is adjustable for a wide range of product sizes and pick positions. It also includes an operator pendant for recipe management and error reporting.
The Robotic Case Packer is both flexible and precise. The cycle time is as fast as eight rows per minute. It also handles multiple bottle sizes with a universal tool as well as other configurations with an automatic tool changeover. It can be used with either standard corrugated or plastic/film lined cases. The 6-axis servo-controlled system allows the system to be extremely precise. The programmable built-in operator pendant requires no need for direct teaching points and has stored recipes and menu selection for patterns/pack outs and allows for on-the-fly adjustments. New products can be added using an offline text editor. The 200 part recipe keeps data such as part description, pick/place locations and stack patterns. The bottle recipe can be moved from case packer to case packer via USB drive.
The rugged welded tubular construction is reliable and durable, with low-maintenance state-of-the-art components. The system has a mean time of five years between failures, making it very reliable. The Robotic Case Packer System options include inverted bottle placement, horizontal bottle placement, fallen bottle detection, custom end of arm tools for unique bottles and controls for additional conveyors.
About Motion Controls Robotics
Motion Controls Robotics is a leading provider of automation solutions to manufacturing industries since 1995. The company provides full service robotic solutions from concept to installation and service/support that keep manufacturers competitive. Motion Controls Robotics creates solutions for Fortune 500 and small to medium-sized manufacturers in general industries, food, food containers, building products, plastics companies, tier one and two automotive suppliers. They also automate small production shops and machine job shops. Motion Controls Robotics provides automation solutions to manufacturers for a variety of applications including material handling (case packing, palletizing and machine tending), material removal, sanding, deflashing, arc welding and vision-guided systems.
Motion Controls Robotics' northwest Ohio headquarters is located at 1500 Walter Avenue, Fremont, Ohio. For more information, visit www.motioncontrolsrobotics.com.
Media contact:
Janine M. Krasicky, J9 Media Solutions LLC
(248) 542-3991 (248) 514-4558 (mobile)