Motion Controls Robotics Inc. Launches Redesigned Website at motioncontrolsrobotics.com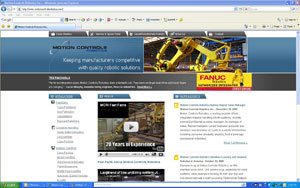 FREMONT, Ohio – Motion Controls Robotics, Inc., a leading provider of fully integrated material handling robotic systems, today launched its redesigned website at www.motioncontrolsrobotics.com.
"Motion Controls Robotics launched its new website to give our customers and potential customers a better glimpse of our capabilities and experience as a leader in providing integrated material handling robotic systems," said Scott Lang, president, Motion Controls Robotics. "We added a variety of videos and photos to showcase our expertise in integrating systems of all sizes."
Motion Controls Robotics' new website features updated content, videos and photos showcasing the various applications the company integrates for its customers including case and bag palletizing, depalletizing, flavored palletizing, container handling, SUBTA bottle unloading, descrambler and case packing, warehouse automation, pallet dispensing, blister pack loading and automatic guided vehicles and carts. Additional applications include assembly, machine tending, arc welding, material removal, vision integration and engineering services. Motion Controls Robotics will keep content fresh on its website by adding new videos and updated blog entries on a regular basis.
The website features a case studies and testimonials area so visitors can learn more about how Motion Controls Robotics works with its customers to develop successful robotic systems. The website also features a database of used/refurbished robots that are available for purchase from Motion Controls Robotics for a cost effective robotic solution. Manufacturers can also view an online catalog of service options and spare parts.

About Motion Controls Robotics
Motion Controls Robotics is a leading provider of automation solutions to manufacturing industries since 1995. The company provides full service robotic solutions from concept to installation and service/support that keep manufacturers competitive. Motion Controls Robotics creates solutions for Fortune 500 and small to medium-sized manufacturers in general industries, plastics, food, building materials and tier one and two automotive suppliers. They also automate small production shops and machine job shops. Motion Controls Robotics provides automation solutions to manufacturers for a variety of applications including material handling (case packing, palletizing and machine tending), material removal, sanding, deflashing, arc welding and vision-guided systems.
Motion Controls Robotics' northwest Ohio headquarters is located at 1500 Walter Avenue, Fremont, Ohio. For more information, visit www.motioncontrolsrobotics.com.