Motion Controls Robotics Hires Paul Getten as Southeast Sales Manager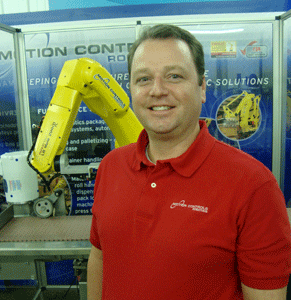 Motion Controls Robotics Inc., a leading provider of fully integrated material handling robotic systems, recently hired Paul Getten for its newly created Southeast Region Sales Manager position. In this position, Getten is based in Charlotte, N.C. and will work in the Southeast with customers to solve their automation challenges.
"We are excited to have Paul Getten join the Motion Controls Robotics team since his strength is to help quickly define and creatively solve customers' problems with effective automation solutions," said Scott Lang, President, Motion Controls Robotics. "His goal fits right in line with our mission to help our customers stay competitive and solve problems that promote growth and drive cost savings to their bottom lines."
Most recently, Getten worked at xpedx Systems Integration Group (a division of International Paper) as a Packaging Systems Sales Engineer based in Charlotte, N.C. where he supported the sale and installation of large equipment projects located mainly in North Carolina, South Carolina and Virginia. During his 13 years with xpedx, he designed and sold a sizeable number of packaging and material handling systems featuring packaging equipment, robotic work cells, AGVs, PLC Controls, vision systems and conveyor systems.
Prior to his time at xpedx, Getten started his career at Shurtape, Inc. of Hickory, N.C., a manufacturer of masking and carton sealing tape. During his time at Shurtape, he designed packaging lines, purchased the necessary equipment and oversaw its installation. Getten earned a bachelor's degree from Georgia Tech in Mechanical Engineering in 1994 and a master's degree in Management from North Carolina State University in 1997.
About Motion Controls Robotics
Motion Controls Robotics is a leading provider of robotic automation solutions to food & beverage, plastics, building and construction materials, and board & sheet goods industries since 1995. The company provides innovative robotic solutions from concept to installation and service/support that keep manufacturers competitive for smaller systems and large scale end-of-line robotic packaging, packing/palletizing and handling systems. Motion Controls Robotics offers turnkey solutions and 24/7 service and support. Motion Controls Robotics is an authorized FANUC Robotics Level 4 Certified Servicing Integrator, an RIA Certified Robot Integrator and a SmartCart® Value Added Reseller.