More processing power for mobile machinery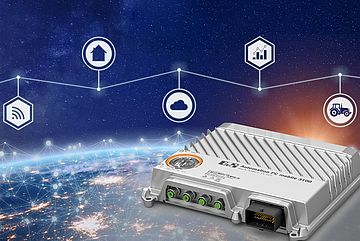 B&R introduces powerful PC for outdoor applications
B&R has added a powerful PC with Intel Core i processor to its portfolio of mobile machinery. The full-fledged PC with IP69K protection is specially designed for use in harsh environments. Its high performance makes it optimally suited for smart machines that communicate with each other and with the cloud.
The PC for mobile machinery features a 7th-generation Core i processor from Intel. Its performance can be scaled from a 2.2 GHz Celeron processor to a 2.8 GHz Core i7. It offers up to 16 GB RAM and 480 GB of flash memory, and is equipped with a TPM module. It also supports standard operating systems like Windows 10 IoT Enterprise and Linux. The PC's computing performance enables implementation of semi or fully autonomous machine functions.
Smart machines
The PC can also be used as an edge controller, collecting large volumes of data from one or more mobile machines, preprocessing it and then sending it to higher-level systems or the cloud. For machine-to-machine and machine-to-cloud communication, B&R offers the widely used OPC UA and MQTT protocols. They allow data packets to be transferred reliably even in cases where the network connection has low bandwidth or is intermittently unavailable.
Used in harshest industrial environments
The PC's rugged design is resistant to shock, vibration, salt, UV light and oil. Despite the housing being completely sealed, it is also fanless. The zero-maintenance PC has a specially developed temperature management system that allows it to be operated from -40 °C to +85 °C surface temperature.
Modular expansion
The PC is insensitive to voltage fluctuations. In addition to a broad standard voltage range from 9 to 32 V, it also has integrated load dump protection. This compensates for peaks in the supply voltage to protect the electronics and ensure uninterrupted operation. Two internal slots allow the PC to be expanded modularly with additional communication interfaces.