Modular Motion Control System from ACS Shortens Lead Time for a Fully Custom and Tailored Motion Control Solution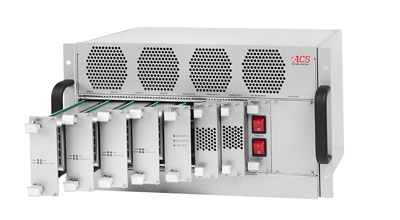 Unique MP4U high performance control system reduces development time and risk for OEMs...
MIGDAL HA'EMEK, Israel -- ACS Motion Control has developed a modular rack-mounted motion control system that quickly and easily integrates up to eight universal motor drives with power supplies and an optional EtherCAT motion controller to deliver a customized solution. The complete MP4U control system simplifies the development cycle and shortens the lead time for implementing a tailored solution. Completely self-contained in a compact 19" rack-mounted chassis, the MP4U can be a replacement for high power, high cost linear drive based solutions.
The unique MP4U control system can be configured with:
* Up to 8 axes of high performance UDM3U drives and/or ultra-high performance NPM3U (NanoPWM) drives
* A 48Vdc and/or 96Vdc motor bus voltage power supply
* An optional internal motion controller, with optional EtherCAT network slave (DS402 multi-axis drive) functionality is to be released in 2018.
The MP4U drives are EtherCAT slaves that may be managed by either an external motion controller, such as the SPiiPlusEC, or by an internal one. The internal controller is to be released during 2018, its functionally is identical to the SPiiPlusEC.
The MP4U may also include an optional high-speed EtherCAT-to-EtherCAT bridge that enables to connect the entire system as a node in an EtherCAT network managed by any automation controller supporting DS402 protocol (SPiiPlusES functionality).
"The MP4U is a customizable motion control subsystem, ideal for meeting the needs of high end motion control applications such as wafer inspection and metrology equipment," said Jason Goerges, Product Marketing Manager. "The lego-like MP4U system offers advanced motion control functionality and flexibility in a compact unit."
The MP4U has a current range of 3.3A / 10A (continuous peak) to 13.3A/40A. The compact unit has a height of 260mm, width of 483mm and depth of 306mm.
About ACS Motion Control
An international manufacturer of advanced multi-axis motion controllers, machine controllers and integrated control modules, ACS provides standard and custom products that combine power and precision to deliver flexible, economical, user-friendly motion and machine control solutions. Established in 1985, ACS' international headquarters is located in Israel and its North American headquarters resides in Bloomington, MN. ACS also has facilities in Germany, South Korea and China, and distributors worldwide that deliver dependable customer service and product support. ACS is an ISO9001 certified manufacturing facility, demonstrating its continuous commitment to providing customers with reliable devices that are thoroughly tested with the latest available techniques.