Modular 3D Laser Triangulation Sensors – Tailor-Made Inspection and Automation Solutions at No Extra Cost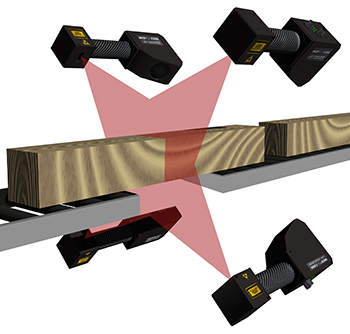 More and more industrial companies are using 3D imaging based on laser triangulation for inspection and automation. A new modular concept for 3D laser triangulation sensors now enables tailor-made sensor solutions at no extra cost as well as maximum productivity and quality gains.
The areas of application for 3D imaging based on laser triangulation are extremely diverse. Whether inspection of printed circuit boards, ball grid arrays, smartphones, glue beads, welding seams, packaging, wood, tires, or train bogies and chassis – 3D laser triangulation sensors enable high-precision quality control. Equipped with all necessary industrial interfaces, they are easy to integrate, communicate directly with control units, and allow the automation of numerous production processes.
Prerequisites for this are suitable characteristics of the sensor components, camera and laser, in terms of field of view and resolution or wavelength and power, respectively, as well as correct parameters of the triangulation setup, such as triangulation angle, working distance, and scan width (x-FOV). Components with matching characteristics are always available, the challenge so far has been the optimal application-specific triangulation setup.
Disadvantages of Previous Solutions
Classic setups with separate components (discrete setups) offer maximum flexibility, and the user can use components with exactly matching characteristics. However, the procurement, setup, integration, and maintenance effort is high, and support is required in many cases. The components are not protected from contamination and moisture from the outset, and camera calibration is often far below optimum.
With the C5-CS series of 3D laser triangulation sensors launched by AT – Automation Technology in 2015, these disadvantages were a thing of the past. C5-CS sensors combine 3D technology and laser electronics in a compact IP67 housing. The laser triangulation setup, optimized according to the Scheimpflug principle, guarantees high-precision measurement results for every area of the measurement object. C5-CS sensors are factory calibrated and equipped with everything needed for industrial applications, from GigE Vision to digital I/Os to an encoder interface. This reduces the procurement, setup, integration, support, and maintenance effort to a minimum. However, there are limitations in terms of flexibility. With its 45 models, the C5-CS series offers solutions for many applications, but not for all. And since the sensor components are permanently installed, application-specific adaptation is only possible for the working distance.
The Solution of the Future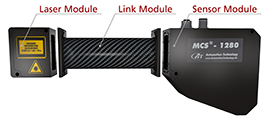 With the MCS series of modular 3D laser triangulation sensors, AT takes the next development step. With this series, the user can configure the solution required for his application himself. He specifies the desired data such as height resolution, working distance, scan width (x-FOV), points per profile as well as laser wavelength and safety class and receives a perfectly tailored sensor composed of corresponding sensor, laser, and link modules. Apart from the modular design, MCS sensors are performance-identical with C5-CS devices and combine the advantages of the latter with those of discrete setups, thus offering maximum flexibility with minimum effort.
Such application-specific solutions have so far been associated with considerable design and manufacturing costs and have therefore only been available to OEMs who purchased very large quantities. However, the modular concept of the MCS series eliminates these extra costs so that every user can get exactly the right sensor, even as a single piece since there is no minimum order quantity.
An Application Example from the Wood Industry
Wood processing companies want to obtain the maximum quantity of quality products from each tree. Therefore they need reliable inspection and automation solutions for round timber sorting and optimization (separation of main and side timber), optimized cutting of beams to boards, board sorting, optimization of boards (trimming) and detection of surface defects such as knots, cracks, rotting, and stains. An application example shows the advantages of the modular concept of the MCS series.
A sawmill was looking for a solution for board sorting. A full contour measurement of the boards in the longitudinal run and the determination of characteristics such as length, width, height, and volume were to be carried out. The aim of the application was to optimize the squared timber yield.
The customer's requirements were:
max. squared timber width/height: 200/180 mm
measuring resolution for squared timber width/height: 0.25/0.1 mm
measuring resolution for transport direction: 6 mm
transport speed: 1,200 m/min
Since the C5-CS series did not offer a suitable model, AT realized a tailor-made MCS sensor for the application at no extra cost. Its characteristics were:
sensor module cx1280 with 1,280 measuring points per profile
measuring width (near/far): 250/400 mm
measuring resolution x (near/far): 0.2/0.3 mm
measuring resolution z (near/far): 0.01/0.02 mm
z-range: 240 mm
triangulation angle: 30°
profile speed: 5,600 Hz with z-range 120 mm (max. 200 kHz)
working distance: 400 mm
laser module: 660 nm, 60°, 130 mW, class 3R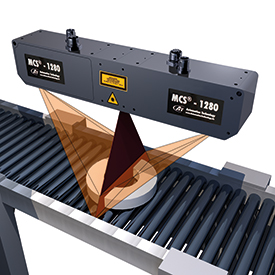 The customer uses four of these sensors in a 360° setup and was able to significantly increase the squared timber yield and quality.
Optional Dual Head Sensor for "Dual Performance"
Thanks to the modular concept of the MCS series, all configurations can also be implemented with two sensor modules. This enables even higher measurement quality due to occlusion-free 3D scans or the combination of different sensor modules for parallel execution of different measurement tasks. A sawmill could use such a dual head sensor, for example, for occlusion-free scans during round timber sorting.
The currently available sensor modules of the MCS series support an output of up to 4,096 points per profile and achieve a profile speed of up to 200 kHz. They have a scan width (x-FOV) of 70 to 1,800 mm, a z-range of up to 1,200 mm and a triangulation angle of 15 to 45°. Depending on the configuration, a resolution x of up to 17 µm and a resolution z of up to 1 µm can be achieved. The laser is available in red or blue and three classes: 2M, 3R and 3B. The MCS series is continuously being expanded with additional sensor and laser modules.