ModeStrip-Assemblies – High Power, Low Risk
Light Transmission without Cladding Modes
LASER COMPONENTS introduced its first own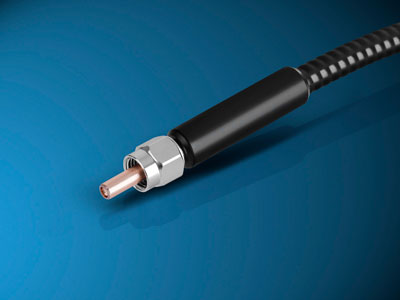 at LASER World of PHOTONICS. This technology allows for effective transmission of high-power laser light through optical fibers. Cladding modes no longer pose any threat.
In theory, light transmitted through optical fibers is reflected without any loss at the boundary between the fiber core and cladding, but practical experience has shown that a small percentage of the light is absorbed into the cladding in the form of so-called cladding modes that may cause thermal problems. With high-power lasers, cladding modes of just 2% or 3% may destroy the connector.
The new assemblies presented by LASER COMPONENTS are equipped with cladding mode strippers. The generated heat is absorbed by a cooling element and no longer presents any danger to the connector.
Cladding mode strippers are most prominently used in high-power systems, such as welding and cutting lasers, or for the pumping of fiber lasers. They are also needed in systems that require high beam qualities without cladding modes or that have to avoid thermal hot spots in the cladding.
About LASER COMPONENTS
LASER COMPONENTS specializes in the development, manufacture, and sale of components and services in the laser and optoelectronics industry. At LASER COMPONENTS, we have been serving customers since 1982 with sales branches in five different countries. We have been producing in house since 1986 with production facilities in Germany, Canada, and the United States. In-house production makes up approximately half of our sales revenue. A family-run business, we have more than 200 employees worldwide.