MitySOM Embedded Imaging Dev Kit for Basler Dart at Automate
Get an early look at our latest embedded development solution. Visit Basler booth #2666 at Automate in Chicago, April 3-6.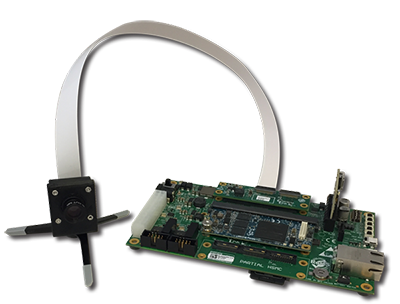 Critical Link's MitySOM-5CSx Development Kit has been paired up with Basler's latest camera series, the dart® with BCON for LVDS interface. This power-packed combination is the fastest path for embedded imaging application development, and will be on display at Basler's booth #2666 at the Automate show in Chicago, April 3-6, 2017 (https://www.automateshow.com/).
Automate is the biggest North-American show for automation, robotics, motion control, and vision. Critical Link's MitySOM-5CSx platform is designed for embedded applications across each of these areas, ensuring a faster time to market and a significantly reduced development budget. Add integration with Basler's dart series, the result is development platform perfectly fit for embedded vision products.
At Basler's booth #2666 you'll see how a dart with BCON for LVDS works using an edge detection application running on the MitySOM-5CSx. The demo features real-time image processing in the MitySOM's Cyclone V SoC, using dual-core Cortex A9 ARMs and FPGA fabric, and leveraging IP Cores from Altera's VIP Suite. Images feed from the MitySOM-5CSx directly to a display port monitor with no PC in the loop – a key out-of-the-box feature for embedded applications.
A fully-bundled kit will be available from Critical Link in early Q2, 2017. Contact us today to ensure earliest delivery.
About Critical Link
Syracuse, N.Y.-based Critical Link is an embedded systems engineering firm offering customizable system-on-modules (SOMs) and imaging platforms for industrial, medical, scientific, and defense applications. Critical Link's end-to-end product engineering services include design, development, and production. Critical Link is a premier Partner in the ImagingHub by Basler, a Platinum Member of the Altera (Intel) Design Solutions Network, a member of the Intel IoT Solutions Alliance, and is ISO 9001:2008 Registered by SRI Quality System Registrar.
Embedded Vision
This content is part of the Embedded Vision curated collection. To learn more about Embedded Vision,
click here
.