Mitsubishi Introduces PowerGate 66 / IP66 NEMA 4 Decentralized Drive
(posted 08/13/2014)
VERNON HILLS, Ill. – Mitsubishi Electric Automation, Inc. enters the decentralized drive market with the introduction of the PowerGate 66 IP66 / NEMA 4 variable frequency drive (VFD). The stand-alone VFD is an engineered solution incorporating a version of the Mitsubishi Electric E700 VFD into a custom made NEMA 4 (water resistant) enclosure for use in harsh environments.

The PowerGate 66 drive is especially suitable for applications that require precise motor speed control, including conveyors used in food and beverage operations and material handling, and the control of pumps and fans in HVAC and water handling applications, or in any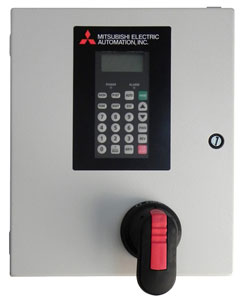 application where the drive is exposed to water and dust.

The design of the PowerGate 66 places it closer to the motor, improving efficiency and preventing motor damage, while the NEMA 4 enclosure protects it against dirt and water. It offers the same performance and operability characteristics as the proven E700.

Beyond its decentralized design, advantages of the PowerGate 66 include its unique keypad and display. The LCD displays information in words, rather than number-based codes, as is the industry norm. And to simplify programming, the keypad has10 buttons laid out similarly to a pocket calculator.

Other key benefits of the PowerGate 66 include:
Compatibility with any of the standard Mitsubishi Electric E700 option cards
Connectivity with Ethernet communications network and virtually all other factory communications networks
5-year limited warranty
"We wanted to offer our customers an alternative to a conventional drive configuration," said Christopher Cusick, product manager, Mitsubishi Electric Automation. "The decentralized design prevents running cables hundreds of yards from the drive to the motor, while the NEMA 4 enclosure makes it ideal for use in harsh environments, including areas where equipment must be hosed down."

Additional information about the PowerGate 66 VFD and Mitsubishi Electric Automation's comprehensive line of factory automation products and solutions is available at http://us.mitsubishielectric.com/fa/en.

Mitsubishi Electric Automation, Inc.
Headquartered in Vernon Hills, Ill., Mitsubishi Electric Automation, Inc., offers a wide range of factory automation products, solutions, training and support services for the industrial and commercial sectors. A U.S. affiliate company of Mitsubishi Electric Corporation, Mitsubishi Electric Automation represents more than 75 years' experience in the automation industry. A broad product portfolio includes programmable automation controllers (PAC), programmable logic controllers (PLC), human machine interfaces (HMI), variable frequency drives (VFD), servo amplifiers and motors, control software, computerized numerical control (CNC), circuit breakers, robots and motion controllers. The company takes its motion control solutions on the road with the 53-foot long Solutions in Motion mobile showroom that appears at tradeshows, training seminars and other events across North America.

In addition to factory automation, Mitsubishi Electric US group companies' principal businesses include semiconductor devices, automotive electrical components, elevators and escalators, heating and cooling products, solar modules, electric utility products, and large-scale video displays for stadiums and arenas. There are 50 locations throughout North America with approximately 3,600 employees.