Mitsubishi Electric Automation Takes VFD Technology into 600-Volt Regions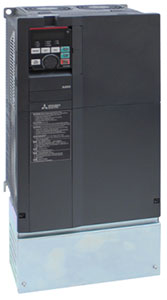 A860 Series inverter delivers class-leading technology to new markets
VERNON HILLS, Ill. – Engineering and plant managers in regions where the main power supply is 575-600 volts can now harness the performance benefits of Mitsubishi Electric's inverter technology with the introduction of the A860 Series variable frequency drive (VFD). A 600-volt version of the proven A800 Series all-in-one VFD, the new A860 Series inverter combines traditional induction and permanent magnet motors into a single solution.
"This new VFD provides high performance response and energy-efficient motor control just like the A800, but it can be used in areas that have 600-volt power supply specifications," said Chris Cusick, product manager, Mitsubishi Electric Automation, Inc. "The A860 offers durability, dependability and dynamic performance specifically for 600-volt applications."
The A860 delivers speed, torque and positioning control for standard three-phase motors. It is particularly well suited for controlling shock loads experienced in machine tools, and in lifting and hoisting applications. This multi-capability VFD is expected to achieve high adoption in the timber and textile industries, with particular suitability for use in saws, chippers, de-barkers and heavy conveyors.
The A860 can be used in both induction motors and interior permanent motors. Its suitability across a number of different applications and motor types reduces engineering, implementation, and long-term support and eliminates the need for application-specific VFDs.
Mitsubishi Electric Automation offers a comprehensive line of factory automation products and solutions.
Mitsubishi Electric Automation, Inc.
Headquartered in Vernon Hills, Ill., Mitsubishi Electric Automation, Inc., offers a wide range of factory automation products, solutions, training and support services for the industrial and commercial sectors. A U.S. affiliate company of Mitsubishi Electric Corporation, Mitsubishi Electric Automation represents more than 90 years' experience in the automation industry. A broad product portfolio includes programmable logic controllers (PLC), human machine interfaces (HMI), inverters, servo amplifiers and motors, control software, computerized numerical control (CNC), circuit breakers, robots and motion controllers. The company takes its motion control solutions on the road with the 53-foot long Solutions in Motion mobile showroom that appears at tradeshows, training seminars and other events across North America.
In addition to factory automation, Mitsubishi Electric US group companies' principal businesses include semiconductor devices, automotive electrical components, elevators and escalators, heating and cooling products, solar modules, electric utility products, and large-scale video displays for stadiums and arenas. There are roughly 50 locations throughout North America with approximately 3,600 employees.
Company Contact
David Kaley - Marketing Communications Manager
Tel: 847.478.2213