Mitsubishi Electric Automation's New IMA™ Mobile App Allows Remote Monitoring of CNC Machines from Handheld Device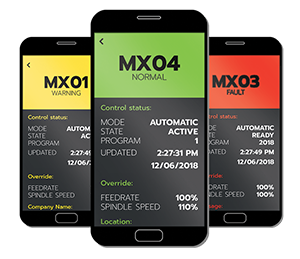 Using the Integrated Machine Analytics™ App can prepare CNC machines in a manufacturer's facility for Industrial Internet of Things (IIoT) integration
VERNON HILLS, Ill. – Mitsubishi Electric Automation, Inc. announces the release of the Integrated Machine Analytics (IMA)™ mobile app, which allows users to monitor their CNC machines through MTConnect®, an open standard that allows universal connectivity. The app is designed for Mitsubishi Electric machines, but will work for any MTConnect® compliant CNC.
The IMA™ mobile app offers real-time monitoring and analysis of CNC functions, and will notify the user when changes or anomalies are detected. If users have multiple CNC machines in their facility with an MTConnect® compliant adapter, they can all be monitored through the app simultaneously. This allows users to ensure projects are staying on schedule and eliminate potential issues before they become significant.
"The IMA™ mobile app is a way for manufacturers to take their first steps towards full Industrial Internet of Things integration," said Justin Kueker, business development manager at Mitsubishi Electric Automation, Inc. "They can enable push notifications to keep tabs on their machines at all times, especially for significant events like machine warnings or alarms."
End users such as business owners, engineering or maintenance managers, and facility or operations supervisors can use the app for machine monitoring purposes to improve their overall equipment effectiveness. Machine tool dealers may also use the app as another value-added offering for their customers and separate themselves from competing vendors.
More information about the IMA™ mobile app can be found on our website.
About Mitsubishi Electric Automation, Inc.
Headquartered in Vernon Hills, Ill., Mitsubishi Electric Automation, Inc., offers a wide range of factory automation products, solutions, training and support services for the industrial and commercial sectors. A U.S. affiliate company of Mitsubishi Electric Corporation, Mitsubishi Electric Automation represents more than 75 years' experience in the automation industry. A broad product portfolio includes programmable automation controllers (PAC), programmable logic controllers (PLC), human machine interfaces (HMI), variable frequency drives (VFD), servo amplifiers and motors, control software, computerized numerical controllers (CNC), motion controllers, robots and low-voltage power distribution products. The company takes its solutions on the road with the 53-foot long Solutions in Motion mobile showroom that appears at tradeshows, training seminars and other events across North America. Additional information about Mitsubishi Electric Automation is available at us.MitsubishiElectric.com/fa/en.
In addition to factory automation, Mitsubishi Electric US group companies' principal businesses include semiconductor devices, automotive electrical components, elevators and escalators, heating and cooling products, electric utility products, and large-scale video displays for stadiums and arenas. Mitsubishi Electric US group companies have 38 locations throughout North America with approximately 4,000 employees.