Mitsubishi Electric Automation's All-in-One Ethernet Drives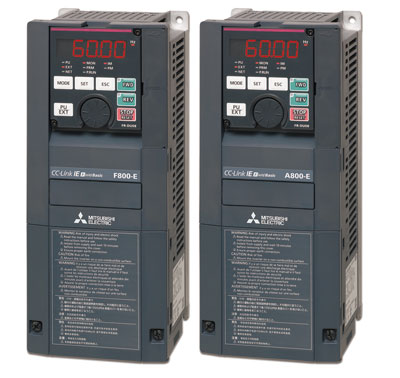 FR-A800-E and FR-F800-E All-in-One VFDs Now Offer Ethernet Connectivity as a Standard Feature
VERNON HILLS, Ill. – In a move to give plant managers and engineering managers an edge in the highly competitive manufacturing market, Mitsubishi Electric Automation, Inc., announced the introduction of Ethernet-connected versions of its popular FR-A800 and FR-F800 Series variable frequency drives (VFDs). The new FR-A800-E and FR-F800-E VFDs provide Ethernet connectivity as a standard feature, allowing the drives to be connected directly to automation equipment and plant information management systems.
These VFDs are well suited for factory automation in the automotive and food processing sectors, as well as wastewater treatment plants. They can be used in process control applications, multiple pump control systems and in networks that require continuous monitoring, such as the measurement of energy consumption.
The FR-A800-E and FR-F800-E inverters can be easily connected to an MES network and provide the ability to exchange data in either direction. They can act as an interconnected VFD "team," without referring to a separate controller, by simply entering PLC programming directly into the drives. They can operate simultaneously within an Ethernet environment and virtually any other automation network, forming a convenient gateway between a plant's other automation equipment.
"These two new inverters, which also support CC-Link IE Field and Modbus/TCP Ethernet protocols, greatly improve plant connectivity," said Chris Cusick, product manager at Mitsubishi Electric Automation, Inc. "The inverters can quickly and automatically identify all the drives on a network by using standard programming software. This can even be done remotely, reducing the need for site visits for commissioning."
About Mitsubishi Electric Automation, Inc.
Headquartered in Vernon Hills, Ill., Mitsubishi Electric Automation, Inc. offers a wide range of factory automation products, solutions, training and support services for the industrial and commercial sectors. A U.S. affiliate company of Mitsubishi Electric Corporation, Mitsubishi Electric Automation represents more than 75 years' experience in the automation industry. A broad product portfolio includes programmable automation controllers (PAC), programmable logic controllers (PLC), human machine interfaces (HMI), variable frequency drives (VFD), servo amplifiers and motors, control software, computerized numerical controllers (CNC), motion controllers, robots and low-voltage power distribution products. The company takes its solutions on the road with the 53-foot long Solutions in Motion mobile showroom that appears at tradeshows, training seminars and other events across North America.
In addition to factory automation, Mitsubishi Electric US group companies' principal businesses include semiconductor devices, automotive electrical components, elevators and escalators, heating and cooling products, solar modules, electric utility products, and large-scale video displays for stadiums and arenas. Mitsubishi Electric US group companies have roughly 50 locations throughout North America with approximately 4,000 employees.
Company Contact
Pam Summers, Sr. Content Management Specialist
Tel: 847-478-2415