Mitsubishi Electric Automation Launches Integrated Control Platform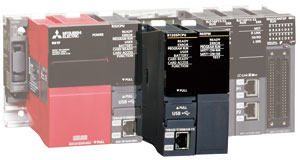 VERNON HILLS, Illinois – Responding to industry demand for integrated machine and plant control, Mitsubishi Electric Automation, Inc. announces the introduction of the iQ-R Series which incorporates sequence, motion, safety, process, and C language control into one platform. The iQ-R Series control platform is designed for applications requiring integrated motion and safety control, tight synchronization between various processes and high production throughput. It is specifically designed for applications within the automotive, food and beverage, material handling, life sciences, and electronics manufacturing industries.
The integrated design allows machines or production lines to consolidate control in one rack. The system can have up to 4 CPUs per rack for various any combinations of motion, sequence or process control.
Key features of the iQ-R Series include:
0.98 ns execution speed
Multi-discipline control with up to 4 CPUs in a single rack
High-speed bus
GX Works3 programming software with built-in functions and configuration screens
CC-Link IE field network with deterministic performance over industrial Ethernet
Built-in SD memory card database
"The iQ-R Series reduces total cost of ownership by offering many advanced features within the integrated controller," said Deana Fu, product manager at Mitsubishi Electric Automation, Inc. "This is a scalable solution to fit dynamic application needs, whether it involves coordinated motion, integrated safety, C language programming or PID control. End users can mix and match controllers to standardize on one platform and simplify spare parts inventory."
According to Fu, the iQ-R Series also offers many benefits to OEMs because it easily integrates with other automation products such as the GOT2000 Series HMI and MR-J4 Series amplifiers through pre-created templates and function blocks. A machine designed on the iQ-R Series is set up for synchronization at every level – among PLCs, I/O modules, and network stations for fast, reliable PLC performance.
The clean control design allows communication between controllers across the backplane, eliminating the need for complex wiring that can add points of error. It also offers a variety of security features to protect intellectual property and ensure system integrity, including a security key feature to prevent unauthorized execution of OEMs' programs.
About Mitsubishi Electric Automation, Inc.
Headquartered in Vernon Hills, Illinois, Mitsubishi Electric Automation, Inc., offers a wide range of factory automation products, solutions, training and support services for the industrial and commercial sectors. A U.S. affiliate company of Mitsubishi Electric Corporation, Mitsubishi Electric Automation represents more than 75 years' experience in the automation industry. A broad product portfolio includes programmable automation controllers (PAC), programmable logic controllers (PLC), human machine interfaces (HMI), variable frequency drives (VFD), servo amplifiers and motors, control software, computerized numerical control (CNC), circuit breakers, robots and motion controllers. The company takes its motion control solutions on the road with the 53-foot long Solutions in Motion mobile showroom that appears at tradeshows, training seminars and other events across North America.
In addition to factory automation, Mitsubishi Electric US group companies' principal businesses include semiconductor devices, automotive electrical components, elevators and escalators, heating and cooling products, solar modules, electric utility products, and large-scale video displays for stadiums and arenas. Mitsubishi Electric group companies have roughly 50 locations throughout North America with approximately 3,500 employees.
Company Cotnact
David Kaley, Marketing Communications Manager
Tel: 847.478.2213