Mitsubishi Electric Automation Introduces Large Capacity 6-Axis Robots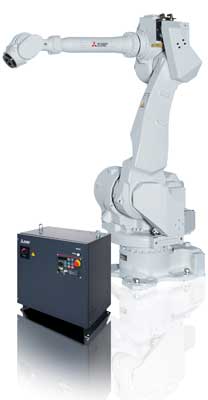 VERNON HILLS, Ill. – Addressing the need for higher capacity robots to meet the demands of today's advanced automated manufacturing processes, Mitsubishi Electric Automation, Inc. introduces the latest in its line of RV-F Series 6-axis robots in 35, 50 and 70 kg payloads.
These new robots extend the Mitsubishi Electric RV-F Series product line to address applications that require higher payloads and longer reaches, including CNC machine tending, large material handling and assembly applications. The new RV-35F, RV-50F, and RV-70F robots are especially well suited to the automotive, food and beverage, as well as electronic manufacturing industries.
Key benefits of the RV-35F, RV-50F, and RV-70F robots include:
Higher payloads – allows applications that require heavier parts and tooling to be robotically automated
Long reach arm – tasks can be spread farther apart and can accommodate larger parts and processes with the ability to extend up to 2050 mm
Seamless integration with the Mitsubishi Electric Factory Automation (MELFA) hardware ecosystem – easily connects to MELFA's extensive offering of integrated automation products
Multiple environmental protection ratings – available in IP40 and IP67 protection ratings to conform to various application requirements
"Commanded by the MEFLA Basic V programming language and coupled with our optional iQ control platform, these high capacity robots are as intelligent as they are strong," said Alex Bonaire, robot product manager, Mitsubishi Electric Automation, Inc. "They easily automate production or processes in complex manufacturing applications that require large robots."
Information on the new RV-35F, RV-50F, and RV-70F robots and the comprehensive line of factory automation products and solutions from Mitsubishi Electric Automation is available at our website.
About Mitsubishi Electric Automation, Inc.
Headquartered in Vernon Hills, Ill., Mitsubishi Electric Automation, Inc., offers a wide range of factory automation products, solutions, training and support services for the industrial and commercial sectors. A U.S. affiliate company of Mitsubishi Electric Corporation, Mitsubishi Electric Automation represents more than 75 years' experience in the automation industry. A broad product portfolio includes programmable automation controllers (PAC), programmable logic controllers (PLC), human machine interfaces (HMI), variable frequency drives (VFD), servo amplifiers and motors, control software, computerized numerical control (CNC), circuit breakers, robots and motion controllers. The company takes its motion control solutions on the road with the 53-foot long Solutions in Motion mobile showroom that appears at tradeshows, training seminars and other events across North America.
In addition to factory automation, Mitsubishi Electric US group companies' principal businesses include semiconductor devices, automotive electrical components, elevators and escalators, heating and cooling products, solar modules, electric utility products, and large-scale video displays for stadiums and arenas. Mitsubishi Electric group companies have roughly 50 locations throughout North America with approximately 4,000 employees.
Company COntact
Pamela Summers, Sr. Marketing Communications Specialist
Tel: (847) 478-2415