Mitsubishi Electric Automation Introduces Interactive Cycle Insertion Screens Compatible with Renishaw GoProbe Macros on M8 Series CNC Controls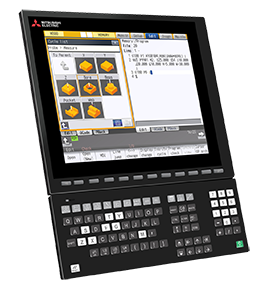 Mitsubishi Electric Factory Automation and Renishaw collaborate to provide ease of use between CNC controls and probes
Vernon Hills, Ill. – Machine tool programmers and engineers that utilize Renishaw's GoProbe macros could save significant time and labor with the use of Mitsubishi Electric Automation, Inc's Interactive Cycle Insertion screens on its M8 Series of CNC controls. They can use the Interactive Cycle Insertion screens to integrate Renishaw GoProbe macros directly into their CNC control. Those looking to acquire a new Renishaw probe can also do so with the knowledge that it will integrate into the Mitsubishi Electric M8 Series CNC Controls.
Interactive Cycle Insertion is an icon-based programming method that lets engineers choose and customize cycles or features directly into their G-code program, through the edit screen. It reduces programming time and potential for human error because programmers do not have to hand-type the G-code into the control. This solution is specifically applicable for tool and workpiece measurement.
"With the newly created Renishaw GUI screens used in the M8 CNC Series Interactive Cycle Insertion function, Renishaw probing cycles have become more user friendly," said Matthew Bascue, mechatronics engineer at Mitsubishi Electric Automation, Inc.
"Renishaw probes can reduce set-up times by up to 90% and improve process control. Probing is an established practice for maximizing efficiency, quality, capability, and accuracy of machine tools," said Dave Bozich, vice president of operations at Renishaw. "Standard routines built into modern CNC controls simplify integration of probing cycles. These routines, when combined with a CAD interface, streamline the simulation of measurement functions."
About Mitsubishi Electric Automation, Inc.
Headquartered in Vernon Hills, Ill., Mitsubishi Electric Automation, Inc. offers a wide range of factory automation products, solutions, training and support services for the industrial and commercial sectors. A U.S. affiliate company of Mitsubishi Electric Corporation, Mitsubishi Electric Automation represents more than 75 years' experience in the automation industry. A broad product portfolio includes programmable automation controllers (PAC), programmable logic controllers (PLC), human machine interfaces (HMI), variable frequency drives (VFD), servo amplifiers and motors, control software, computerized numerical controllers (CNC), motion controllers, robots and low-voltage power distribution products. The company takes its solutions on the road with the 53-foot long Solutions in Motion mobile showroom that appears at tradeshows, training seminars and other events across North America.
In addition to factory automation, Mitsubishi Electric US group companies' principal businesses include semiconductor devices, automotive electrical components, elevators and escalators, heating and cooling products, electric utility products, and large-scale video displays for stadiums and arenas. Mitsubishi Electric US group companies have 38 locations throughout North America with approximately 4,000 employees.