Mitsubishi Electric Automation Introduces Energy-Saving Variable Frequency Drive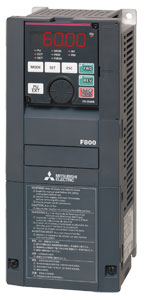 F800 Series designed to efficiently move air in HVAC applications
VERNON HILLS, Ill. – Mitsubishi Electric Automation, Inc. introduces the F800 Series variable frequency drive (VFD) for precise motor speed control with maximum energy-savings. The low-voltage F800 is specifically designed to improve efficiency of air movement through HVAC systems.
While the F800 is especially suitable for HVAC applications, including air handlers, cooling towers, and pumps; this multi-functional F800 is also appropriate for pumps and fans within industrial applications. The F800 controls and supports multiple motor types, including AC induction and permanent magnet motors, eliminating the need to specify multiple VFDs to address various motor control needs. This versatility also makes it ideal for food and beverage, automotive, and water treatment industries.
"The F800 is ideal for any motor control application that demands increased motor efficiency and energy savings," said Chris Cusick, product manager, Mitsubishi Electric Automation, Inc. "This new VFD is multi-functional and can be used across various applications and motor types, so it is a smart solution for the differing needs of OEMs, electrical contractors, systems integrators, and design and engineering consultants within HVAC and other industries."
Using embedded motor control algorithms that optimize AC motor voltage and current based on the desired load, the F800 allows users to maximize motor usage and performance while saving energy. This drive series also includes energy monitoring capabilities to capture and display actual energy usage.
The F800 includes on-board preventive maintenance to reduce unexpected downtime. There's also an optional LCD display that provides accurate time stamped logging and real-time clock scheduling functions. The F800 comes in traditional chassis style, large system/component style and is also available as a true turnkey bypass control solution. It is available in 200- and 400-volt classes.
Information on the new F800 Series VFD and the comprehensive line of factory automation products and solutions from Mitsubishi Electric Automation is available at Mitsubishi's website.
About Mitsubishi Electric Automation, Inc.
Headquartered in Vernon Hills, Ill., Mitsubishi Electric Automation, Inc., offers a wide range of factory automation products, solutions, training and support services for the industrial and commercial sectors. A U.S. affiliate company of Mitsubishi Electric Corporation, Mitsubishi Electric Automation represents more than 75 years' experience in the automation industry. A broad product portfolio includes programmable automation controllers (PAC), programmable logic controllers (PLC), human machine interfaces (HMI), variable frequency drives (VFD), servo amplifiers and motors, control software, computerized numerical control (CNC), circuit breakers, robots and motion controllers. The company takes its motion control solutions on the road with the 53-foot long Solutions in Motion mobile showroom that appears at tradeshows, training seminars and other events across North America.
In addition to factory automation, Mitsubishi Electric US group companies' principal businesses include semiconductor devices, automotive electrical components, elevators and escalators, heating and cooling products, solar modules, electric utility products, and large-scale video displays for stadiums and arenas. There are 50 locations throughout North America with approximately 3,600 employees.
Company Contact
David Kaley - Marketing Communications Manager
Tel: 847.478.2213