Mitsubishi Electric Automation Introduces CNC Quick Tip Videos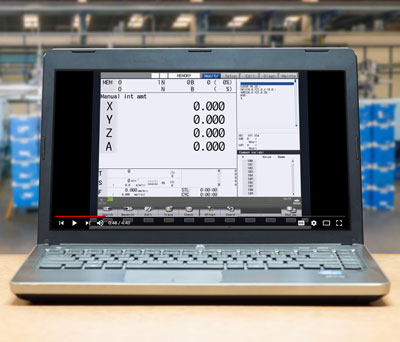 VERNON HILLS, Ill. – Individuals who use, sell or build machine tools with computer numerical control (CNC) products from Mitsubishi Electric Automation, Inc. can now easily access how-to videos for quick tips on commonly asked CNC questions. Offered to end users, dealers and machine tool builders, the videos explain how to perform various functions on Mitsubishi Electric CNC products.
The CNC Quick Tip videos provide answers to frequently asked questions about various CNC functions. The first videos in the series address the layout of Mitsubishi controls, customizing counters on the monitor page, and performing a program search using an SD card, memory or HDD. Future videos will include topics such as transferring programs to an SD card, USB or via Ethernet, how to set up the tool management data; and using the buffer correction function amongst other topics.
For end users, the videos provide useful information on how to use the control and will be especially helpful if the users are transitioning from other manufacturers' controls. Dealers and machine tool builders can use the videos to help in their sales efforts by easily demonstrating to existing and potential customers how to use machines incorporated with Mitsubishi Electric controls.
"The CNC Quick Tip videos are part of our commitment to post-sale customer support. When users want fast answers to questions while they're on the plant floor, these videos offer an easy, convenient way to find solutions," said Scott Strache, CNC product manager. "We also want to provide quick answers to dealers and machine tool builders who sell our CNC products."
The CNC Quick Tip videos are available on YouTube. Additional information on the comprehensive line of factory automation products and solutions from Mitsubishi Electric Automation is available at https://us.mitsubishielectric.com/fa/en.
About Mitsubishi Electric Automation, Inc.
Headquartered in Vernon Hills, Ill., Mitsubishi Electric Automation, Inc., offers a wide range of factory automation products, solutions, training and support services for the industrial and commercial sectors. A U.S. affiliate company of Mitsubishi Electric Corporation, Mitsubishi Electric Automation represents more than 75 years' experience in the automation industry. A broad product portfolio includes programmable automation controllers (PAC), programmable logic controllers (PLC), human machine interfaces (HMI), variable frequency drives (VFD), servo amplifiers and motors, control software, computerized numerical controllers (CNC), motion controllers, robots and low-voltage power distribution products. The company takes its solutions on the road with the 53-foot long Solutions in Motion mobile showroom that appears at tradeshows, training seminars and other events across North America. Additional information about Mitsubishi Electric Automation is available at us.MitsubishiElectric.com/fa/en.
In addition to factory automation, Mitsubishi Electric US group companies' principal businesses include semiconductor devices, automotive electrical components, elevators and escalators, heating and cooling products, electric utility products, and large-scale video displays for stadiums and arenas. Mitsubishi Electric US group companies have roughly 31 locations throughout North America with approximately 4,000 employees.