Mitsubishi Electric Automation, Inc.´s New Regenerative Converter Recycles Energy and Returns it to the Power Source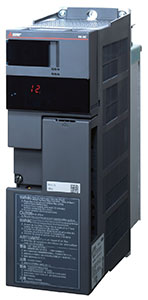 The FR-XC Series offers a regenerative alternative to dynamic braking
Mitsubishi Electric Automation, Inc. announces the release of the FR-XC Series Multi-functional Regenerative Converter, offering considerable energy savings and system cost reductions as supplemental hardware for Mitsubishi Electric´s FR Series of Variable Frequency Drives (VFDs). Geared towards end users in crane and material handling applications, the regenerated energy from one VFD in a lift application is used by another VFD to drive other motors in the system.
The energy saving effect presented by the FR-XC Series results in less wiring, smaller enclosures, reduction in power supply capacity, and reduction in facility size by power factor improvements. Used as a replacement to the network of transistors and resistors used in dynamic braking, the FR-XC Series can be used in three different modes of regeneration: dynamic braking regeneration, DC common bus regeneration, and harmonic mitigation (in DC common bus mode only). These modes can be further combined with the FR-XCL, FR-XCB or FR-HAL Series stand-alone reactors, and have different restrictions and applications.
"With the rise in environmental awareness, efficiency standards, and alternative methods for reusable energy, demand for regenerative converters is on the upswing," said Chris Rhodes, product marketing engineer at Mitsubishi Electric Automation, Inc. "The FR-XC Series offers harmonic suppression and power regeneration in a single solution, lowering energy cost."
About Mitsubishi Electric Automation, Inc.
Headquartered in Vernon Hills, Ill., Mitsubishi Electric Automation, Inc., offers a wide range of factory automation products, solutions, training and support services for the industrial and commercial sectors. A U.S. affiliate company of Mitsubishi Electric Corporation, Mitsubishi Electric Automation represents more than 75 years' experience in the automation industry. A broad product portfolio includes programmable automation controllers (PAC), programmable logic controllers (PLC), human machine interfaces (HMI), variable frequency drives (VFD), servo amplifiers and motors, control software, computerized numerical controllers (CNC), motion controllers, robots and low-voltage power distribution products. The company takes its solutions on the road with the 53-foot long Solutions in Motion mobile showroom that appears at tradeshows, training seminars and other events across North America.
In addition to factory automation, Mitsubishi Electric US group companies' principal businesses include semiconductor devices, automotive electrical components, elevators and escalators, cooling and heating products, electric utility products, and large-scale video displays for stadiums and arenas. Mitsubishi Electric US group companies have roughly 31 locations throughout North America with approximately 4,000 employees.