Mitsubishi Electric Automation, Inc. Implementing Industrial Sewing Machines for Protective Mask Production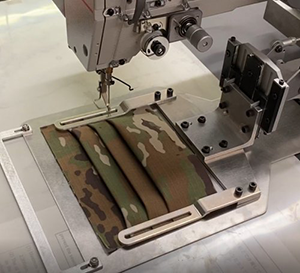 PLK-J Series programmable sewing machines are being deployed to help meet the rising demand of protective facemasks in North America.
Mitsubishi Electric Automation, Inc. is announcing the use of its PLK-J Series industrial sewing machines to meet the demand for protective facemasks in light of the COVID-19 pandemic. These machines reduce the production time of each individual mask compared to doing it by hand, and reduce the need for experienced sewing machine operators, as the process is fully automated.

The PLK-J Series sewing machine allows for easy changeover to other sewing operations, sews consistent products and reduces production time. The machine is fully programmable and includes digital tension, presser foot motion, and material thickness detection features. Mitsubishi Electric Automation also produces an application-specific clamp for facemask production. The clamp is designed, assembled, and sewn off in-house.

"In early 2020, there was a concerning shortage of protective facemasks when the COVID-19 pandemic first broke out in North America," said Warren Shannon, sales and operations manager for industrial sewing machines at Mitsubishi Electric Automation, Inc. "Many retailers were sold out or had their stocks depleted early on. Amid concerns that the pandemic will worsen in the fall of 2020, we can be more ready to meet the high demand for protective facemasks by using industrial sewing machines to automate the production of these products."

About Mitsubishi Electric Automation, Inc.
Headquartered in Vernon Hills, Ill., Mitsubishi Electric Automation, Inc., offers a wide range of factory automation products, solutions, training and support services for the industrial and commercial sectors. A U.S. affiliate company of Mitsubishi Electric Corporation, Mitsubishi Electric Automation represents more than 75 years' experience in the automation industry. A broad product portfolio includes programmable automation controllers (PAC), programmable logic controllers (PLC), human machine interfaces (HMI), variable frequency drives (VFD), servo amplifiers and motors, control software, computerized numerical controllers (CNC), motion controllers, robots and low-voltage power distribution products. The company takes its solutions on the road with the 53-foot long Solutions in Motion mobile showroom that appears at tradeshows, training seminars and other events across North America. Additional information about Mitsubishi Electric Automation is available at us.MitsubishiElectric.com/fa/en. In addition to factory automation, Mitsubishi Electric US group companies' principal businesses include semiconductor devices, automotive electrical components, elevators and escalators, heating and cooling products, electric utility products, and large-scale video displays for stadiums and arenas. Mitsubishi Electric US group companies have 38 locations throughout North America with approximately 4,000 employees.