Midwest Engineered Systems Receives KUKA System Partner Outstanding Growth Award
Midwest Engineered Systems Inc., an innovative provider of premier custom machines and integrated systems, received the 2014 KUKA System Partner Outstanding Growth Award.
This award was received during the KUKA System Partner Summit that was held on April 29-May 1, 2015 in Captiva Island, Florida.
KUKA Robotics awarded Midwest Engineered Systems with this honor for having the greatest percentage increase in unit sales by a systems partner from 2013-2014.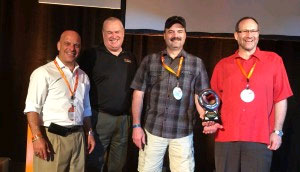 "This award is a recognition of the significant growth Midwest Engineered Systems experienced with KUKA robots in 2014 as an Official KUKA Robotics System Partner." States Jim Cooper, Vice President of Sales and Marketing at KUKA Robotics Corporation. "We are proud to be partners with Midwest Engineered Systems and be part of the innovative and commitment to customer support that they provide."
The knowledge and expertise of advanced automation technology combined with the partnership we have with KUKA Robotics has given Midwest Engineered Systems the ability to provide complex robotic configurations for manufacturing companies around the world.
Midwest Engineering Systems Inc. is committed to providing simple solutions to complex automation problems. Our engineering staff has technical expertise that includes a diverse knowledge base, building thousands of custom automation systems over the last 24 years.
Midwest Engineering Systems Inc. has been providing high-quality custom machine design and automation solutions since 1991.