Midwest Engineered Systems Launches KUKA Robotics Webpage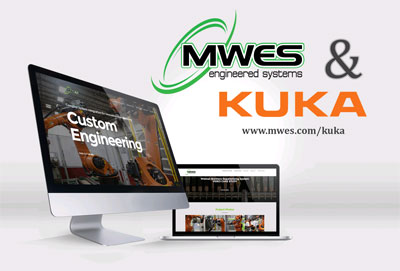 Midwest Engineered Systems Inc., an innovator and leader in complex system integration, has been proudly integrating automation systems with KUKA robots for over 7 years. To support this strong partnership with KUKA robotics, Midwest Engineered systems has announced the launched of a KUKA Robotics webpage.
As a pioneer in robotics and automation technology, KUKA Robotics is one of the leading manufacturers of robotic systems worldwide. KUKA offers a unique and wide range of industrial robots and robot systems, covering all common payload categories and robot types. The matching controllers and software for a variety of scenarios round out KUKA's product portfolio
Midwest Engineered Systems has been an official KUKA Robotics Systems Partner since 2009. The new KUKA specific webpage includes information about integration capabilities, photos / videos of completed systems, and case studies from past projects. The webpage was designed in such a way to inform manufactures interested in integrating robots into their process.
About Midwest Engineered Systems
Midwest Engineered Systems Inc. is committed to providing simple solutions to complex manufacturing problems. Our engineering staff has technical expertise that includes a diverse knowledge base, building thousands of custom manufacturing solutions over the last 24 years. Our full service shop and 100,000+ sq. ft. facility allow us to integrate new equipment and rebuild existing equipment to support our customers needs.