Midwest Engineered Systems is Offering a 10% Discount on Service & Parts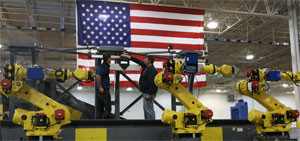 Keeping a competitive edge is essential for both large and small businesses alike. Midwest Engineered Systems Inc., an innovator and leader in complex system integration, understands that investing in automated equipment can help with staying ahead of the competitive curve, but it often costs a hefty penny. That is why Midwest Engineered Systems will be offering a 10% discount on all preventative maintenance services from July 13- August 24, 2015.
Midwest Engineered Systems has been proudly providing custom manufacturing equipment since 1991. This growing organization, with locations in Wisconsin and Colorado, offers services to a large range of manufacturing industries. Over the years, Midwest Engineered Systems has expanded its technical expertise to include robotics, assembly line solutions, automated systems, material handling, welding, converting/web-handling systems, and retrofits/upgrades.
"Our engineers excel at pushing the limits to find the best solution for all of our customers," stated CEO, Scott Woida, "We understand that having an efficient company is important in order to stay competitive, and we are here to help you with that."
Get 10% off service and parts when you schedule preventative maintenance for your equipment (between July 13-August 24, 2015) by calling MWES.
About Midwest Engineered Systems Inc.
Midwest Engineered Systems Inc. is committed to providing simple solutions to complex manufacturing problems. Our engineering staff has technical expertise that includes a diverse knowledge base, building thousands of custom manufacturing solutions over the last 24 years. Our full service shop and 100,000 sq. ft. facility in Waukesha, WI and 50,000 sq.ft facility in Loveland, CO, allow us to integrate new equipment and rebuild existing equipment to support our customers.