Midwest Engineered Systems Hosts Tour for GPS Education Partner
Waukesha WI - Finding a job after graduation can be exciting, overwhelming, and sometimes a little scary. However, one of the first steps towards securing a job is understanding the desired career path. Education helps with this process, but it can never replace first-hand experience. Midwest Engineered Systems Inc., an innovative provider of premier custom machines and integrated systems, understands this benefit and was proud to welcome 15 high school students associated with GPS Education to its facility.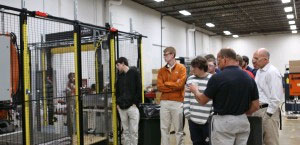 Over 80% of current employers insist that today's youth lack employability skills. If this is true, businesses will be facing a shortage of workers in no time. In order to combat these potential issues, GPS Education has implemented education centers hosted by manufacturing businesses that teach core academics alongside courses designed to increase knowledge needed for a future working environment. However, the whole school day is not spent in the traditional sense. GPS Education offers paid job placements for students where they can work side by side mentors and apply classroom lessons. This hands-on training provides students with more insight and a competitive skill set.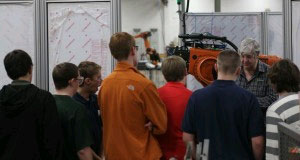 Midwest Engineered Systems was privileged to help with this education system by conducting a tour of its facility. CEO, Scott Woida, discussed positions available in the manufacturing and engineering world and explained how the company grew into existence. Other Midwest Engineered Systems employees also shared their stories and explained the journey that led the to a chosen career path.
In addition, students were able to tour the new 100,000 sq ft facility where they were able to witness these jobs in action. This tour was aimed to help students understand the variety of careers that exist in engineering and manufacturing today. Midwest Engineered Systems hopes to inspire eager minds and help students determine a career path after school.
Midwest Engineered Systems Inc. is committed to providing simple solutions to complex automation problems. Our engineering staff has technical expertise that includes a diverse knowledge base, building thousands of custom automation systems over the last 23 years.
Midwest Engineered Systems Inc. has been providing high-quality custom machine design and automation solutions since 1991.