Microscan Free Product Training with Multi-Point Machine Vision Inspection Software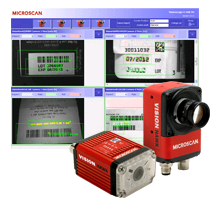 Microscan, a global technology leader in barcode, machine vision, and lighting solutions, announces a free two-day product training featuring its latest multi-point machine vision inspection software, Visionscape® I-PAK® VH. This hands-on event will be held in Microscan's Northeast Technology Center in Nashua, New Hampshire, on two days from March 17-18, 2015. Attendance is free and online registration is available for all users, from machine vision beginners to experienced users of Microscan I-PAK systems.

Part of Microscan's Regional Training program, this workshop offers users the chance to get hands-on experience with Microscan's customizable Visionscape I-PAK VH software in labs led by Microscan machine vision solutions engineers. With the ability to configure and deploy up to four smart cameras, users can visualize up to four points on a line or several angles of a product at once from the I-PAK VH user interface. I-PAK VH uses Microscan's complete Visionscape machine vision tool library and is compatible with the company's most capable smart cameras from the flexible and high-performance Vision HAWK line. Equipped with these capabilities, users can perform multiple combinations of inspections from several cameras networked to the production line, including barcode reading, defect detection, text reading (OCR) and text quality verification (OCV). Even with its advanced capabilities, the I-PAK interface is designed for ease of use at all experience levels. Password protection allows anyone to view the I-PAK VH runtime while limiting setup and inspection parameter changes to authorized personnel only.

During Microscan's two-day product training, attendees will learn basic to intermediate I-PAK VH skills, including how to develop new inspection jobs for barcode reading and text quality inspection using the Decode and OCV (Optical Character Verification) tools. Machine vision and ID technology experts will be available to offer one-on-one guidance on attendees' specific applications and automation projects and attendees are invited to bring their parts and codes to the event to discuss with the Microscan team. Attendees of the product training will also receive an install package of Microscan's I-PAK VH software for use in training labs and trial purposes.

Microscan's latest machine vision inspection tools empower every user to incorporate automation into their operations without the need for advanced training or the hassle of complex technology.