MicroEye
v align="justify">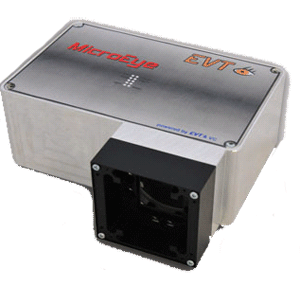 While quality is always a primary concern, it is even more important in the electronic and semiconductor industry. It has an indispensable part in the production and controlling, as high quality measures are essential for an economic production and the quality of the result.

Therefore EVT presents with the MicroEye a ready-to-use complete solution for quality control in the semiconductor and electronic industry, as well as for micro-assembly applications, where even the smallest component parts are inspected.

The MicroEye combines a smart camera with a 700 MHz processor and a computing power of 5.600 MIPS with a telecentric lens. Even the lighting is integrated. The concept of the system is that the user can choose between three different types of lighting. The standard options are telecentric or dark field illumination and dome illumination providing homogeneous diffuse incident light.

Due to the telecentric lens the measuring accuracy is improved and it allows to detect objects without any perspective distortion. Furthermore the field of vision can be chosen between 7 x 11 mm and 30 x 40 mm. Even the resolution is variable, the user can choose up to 5 megapixel.

Concerning the interfaces, the MicroEye offers a freely programmable 100 MB Ethernet interface, which allows for a live video output on a PC. In addition, for integration into existing automation environments, the MicroEye features two digital inputs and four outputs.

The housing with the measurements of approximately 15 x 10 x 6 cm is designed for the use in semiconductor and manufacturing machines. Thanks to the dovetail the sensors can be integrated easily into existing machines.

Above all EVT adds the EyeVision Software, which allows the user to solve even complex applications with the ready-to-use graphical user interface. The graphical commands for the different applications allows an easy parametrisation and the inspection program is ready for operation in only a few mouse clicks.