Michael Jacobs to Participate in Panel Discussing Successful Automation During the AI and Robotics Symposium at University of Michigan on November 1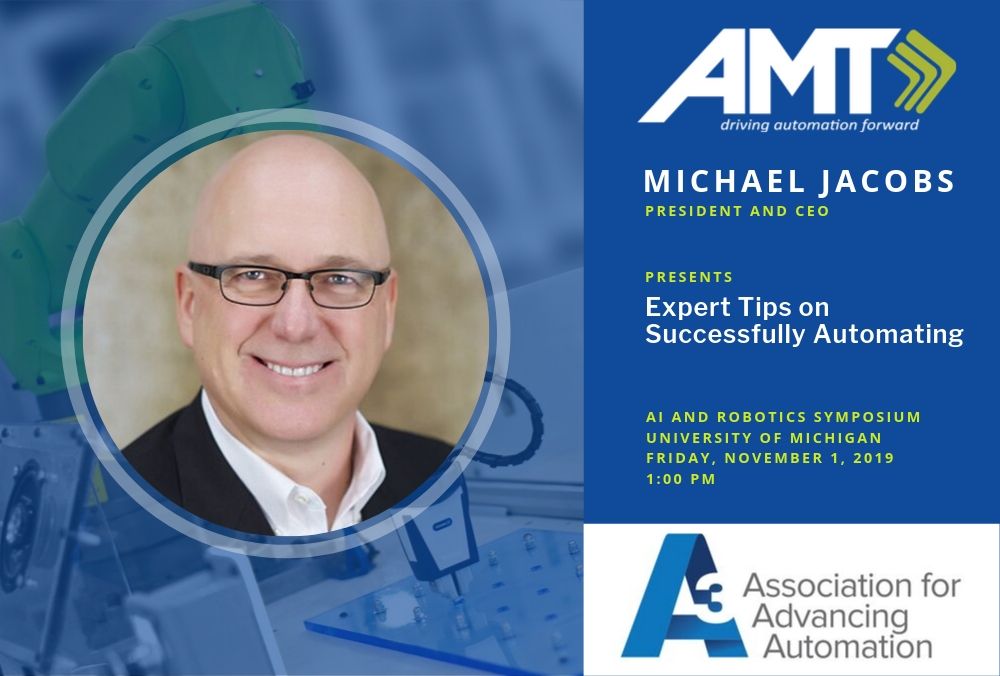 Founder and President Michael Jacobs will speak on a panel entitled Expert Tips on Successfully Automating at the AI and Robotics Symposium on November 1, 2019. The symposium is sponsored by Littler Mendelson P.C. and the Association for Advancing Automation (A3), and hosted by the University of Michigan.
As automation becomes increasingly important with the growing global economy and aging workforce, companies in all industries are beginning to assess using robotics and automation to gain a competitive advantage. The panel will cover topics aimed at companies that are new to robotics and automation, including:>
How to select the right applications to automate
When to use in-house resources and when to hire a system integrator
Key initial steps and common pitfalls
How to prepare your workforce
How to make safety a priority
How to find automation and robotics resources for a successful project
Michael Jacobs will share his expertise on the panel with industry luminaries Mike Cicco, president and CEO of FANUC America, Dave Gravel robotics technical expert at the Ford Motor Company, and moderator Jeff Burnstein, president of A3.
The symposium will also feature three additional sessions: AI and Ethics, Cobots at Work, and Preparing Your Workforce: Future Worker Roles, Education, and Skill Requirements. The panelists are thought leaders from diverse organizations such as the University of Michigan, Littler, A3, Silicon Valley Law Group, KUKA Robotics USA, Cuatrecasas, Universal Robots, Michigan Mobility Institute, Robert Bosch LLC, and FortiGuard Labs.
Registration is free for this half-day event, which concludes with a networking reception.

Panel: Expert Tips on Successfully Automating
Event: AI and Robotics Symposium sponsored by Littler Mendelson P.C. and the Association for Advancing Automation (A3) and hosted by the University of Michigan
Date: Friday, November 1, 2019 from 12:30-6:30 pm
Location: University of Michigan
North Campus Research Center
Building 18 Entrance
2800 Plymouth Road
Ann Arbor, MI 48105
Parking: Lot NC99 located outside the North Campus Research Complex
Registration: Free registration
Agenda:Download the agenda here