MH300 High Performance Compact Drive and MS300 Standard Compact Drive Offers IP40 NEMA1 Rating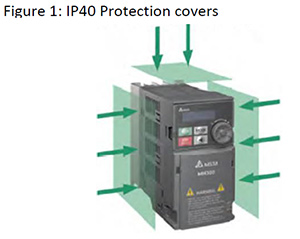 Delta Products offers the MH300 High Performance and MS300 Standard Compact Drive with IP40 protection and conduit box for on-conveyor mounting. Delta Products MS300 Variable Frequency Compact Drives have rugged metal conduit boxes for high reliability and Drive vent covers for IP40 NEMA1 protection against falling objects greater than 1 mm such as screws or wires.
The IP40 NEMA 1 protection covers for three sides are shown in Figure 1.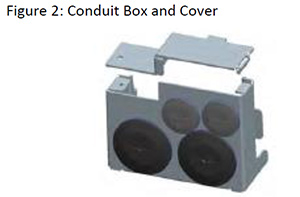 The rugged metal conduit box with conduit knock-outs is shown in Figure 2.
Figure 3 shows an MS300 Compact Drive VFD4A8 MS23ANSAA mounted on a conveyor with the IP40 covers and conduit box shown together.
The MS300 Compact Drive offers an internal PLC with the ability to develop a custom program to control an application without the need for additional PLCs or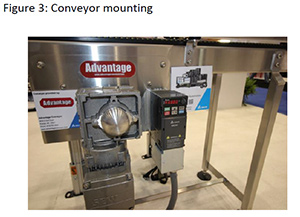 position feedback sensors.
Versatility in a drive has never been so powerful. For a compact, reliable and capable Variable Frequency Drive, the MH300 MS300 Series Compact Drives from Delta Products is the one to choose.
For more information on MH300 MS300 Compact Drives go visit Delta's webisite, and a product description video is available at this link.