MFxM Magnetic Proximity Switches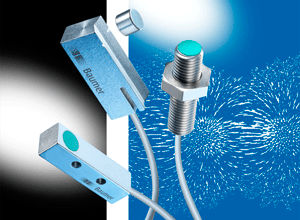 New MFxM magnetic proximity switches from Baumer detect magnetic fields over large distances up to 60 mm. These sensors can be used effectively in applications where the target is located behind a wall of non-ferromagnetic metal such as stainless steel or aluminum. This allows the sensor and the magnetic target to be placed in protected locations.
MFxM magnetic proximity switches feature two housing options: extremely compact rectangular housings measuring 8x8mm, or standard M8 housings. These sensors can easily replace inductive sensors in applications with long sensing distances, or where metal parts influence the inductive sensor's ability to detect magnetic fields. The MFxM's large sensing range provides increased tolerances, which allow the sensor to compensate for objects subject to rocking motion.
The Baumer MFxM magnetic proximity switches and their magnet targets can be installed in protected locations. This is especially relevant for outdoor applications such as in agricultural equipment, cranes or lifting vehicles, where the enclosure adds to the vehicle's robustness.
The Baumer Group is a leading international manufacturer of sensors and system solutions for factory and process automation. In 2011, the innovative family-owned company employed about 2,500 people worldwide in 36 locations and 18 countries. The long lasting success is built on high customer focus as well as the innovative and diversified product range of the product segments Sensor Solutions, Motion Control, Vision Technologies, Process Instrumentation, and Gluing Systems.