+Mfg to Showcase Innovative Additive Manufacturing machine at Automate 2015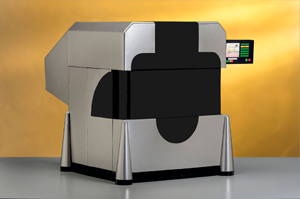 +Mfg, LLC ('Plus Manufacturing') announced it will attend the Automate 2015 show in Chicago, IL on March 23-26, 2015 at McCormick Place. +Mfg will be debuting the revolutionary +1000K additive manufacturing machine utilizing an inert gas shielded arc to deposit multiple metals in any three dimensional pattern.

The +Mfg +1000K can replace the manufacturing processes of casting, stamping and milling, making large format near net shape parts in a fraction of the time and expense of traditional methods. Using the new Parker Hannifin PAC controllers to control the robotic motion and deposition process, the part temperature is tightly controlled to manipulate the grain structure, resulting in superior material properties.

Metal deposition rate is over 2.5 kg/hour allowing for deposition of large parts in less time or quick build of multiple small parts. The fine control and refined process results in near net shape parts requiring minimal final machining, thus reducing waste, saving time and money — the perfect machine for imaginative design and development, production, product revisions, and part changeover.

The +1000K achieves its outstanding flexibility using Parker PAC multiple axis controllers to produce metal parts faster, cheaper, safer, and less expensively.

The addition of the Auto-Axcess® E 300, an advanced multi-MIG welding system from Miller Electric Mfg. Co. provides a customized Pulse program designed specifically for +Mfg, as well as arc data monitoring to ensure the Arc Metal Depositiontm process falls within the exact specifications.

Visit the Parker Hannifin booth # 1139 at Automate 2015 to see the robotics portion of the revolutionary +Mfg +1000K and ask the +Mfg representatives at booth # 598 how you can get more information on the future of additive manufacturing.