Mezzanine Partnership with 96boards Allows Comprehensive Connectivity for FRAMOS' Line of Embedded Vision Sensor Modules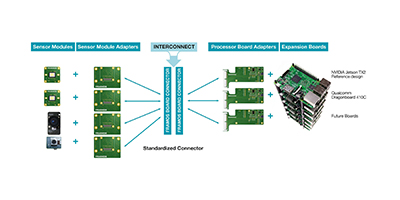 FRAMOS announces a global partnership with 96boards, the leading technology frontier in open platform specification and compliance, to comprehensively connect the FRAMOS Embedded Vision line of sensor modules for efficient vision development.
96boards is a range of hardware specifications created by Linaro to make the latest ARM-based processors available to developers at a reasonable cost. The series provides open platform specifications for SoC-independent design, tailored for various market segments, and is supported by the ecosystem of Linaro. FRAMOS, the global vision partner, supports companies and OEM's to integrate imaging technology into devices and applications. Their new Mezzanine partnership interconnects the FRAMOS Embedded Vision ecosystem with the 96boards.org Consumer Edition. With 96boards as chosen reference platform by many open source projects and for productionisation, the FRAMOS' line of sensor modules gets full connectivity to the complete range of 96boards supported processor boards and extensions. By adding a dedicated FRAMOS Processor Adapter, developers can choose from 16 FRAMOS sensor boards for flexible use with all boards of the 96boards Consumer Edition, accelerating embedded development by a modular approach.
Chris Barrett, Chief Products Officer at FRAMOS, says: "We are extremely happy about the new global partnership with 96boards, which allows our customers to extensively connect our Embedded Vision line of sensor modules to their individual development projects. With this cooperation, we can offer compatibility to a processor board standard, that already today ensures mechanical and electrical compatibility of a large number of SoC boards. Together with the Linux OS support, a strong community and the FRAMOS Sensor Ecosystem, it massively simplifies our customer's Vision system design from the proof of concept to series production."
The 96boards initiative offers standardized connectivity, format and mechanical designs. With the FRAMOS Mezzanine partnership, customers benefit from plug and play hardware approach for multiple sensor and processor boards to evaluate the optimal solution for their project. This is ideal for small volume developments, where an own board design is not economically feasible. "Developers get an adapter and Linux-based reference driver to develop their own drivers. Also, they can approach other 96boards partners to even boost connectivity and functionality of their design with FPGA, LTE, Audio and many more compliant features. With access to the 96boards community, users can exchange experiences and knowledge to drive innovation," adds Barrett.
What is 96boards and How Does it Fit FRAMOS?
The goal of the 96boards initiative is to ease industrial application development and production deployment with a system-on-module approach, ready to develop around expansion or mezzanine boards, peripherals and many more. The combination with FRAMOS' line of sensor modules is a perfect example how to offer a cross-linked universe for development, flexible and adaptable for individual application requirements. The 96boards compliance is designed to ensure a high-quality level hardware and software functionality, achieved with full documentation, binary licensing, testing and many additional reports and services.
The FRAMOS Embedded Vision product line is built to ease imaging development. Designed for a modularized approach to Embedded Vision, the series of FRAMOS products includes sensor modules, module board adapters and processing board adapters for fast and easy development from concept to final design. The FRAMOS line of products work as a mix & match tool kit paving an accelerated way building vision products, providing vision engineers and developers with ready-to-use compositions to speed time-to-market and optimize resources.
About 96boards
96Boards is the leading technology frontier in open platform specification and compliance. The initiative offers a range of hardware specifications created by Linaro to make the latest ARM-based processors available to developers at a reasonable cost. The specifications are open and define a standard board layout for SoC-agnostic (processor independent) development platforms that can be used by software application, hardware device, kernel and other system software developers. Boards produced to the 96Boards specifications are suitable for rapid prototyping, hobbyist projects or incorporation into new systems for a wide range of applications including desktop and laptop computing, the digital home, digital signage, point of sale (POS), high-end audio, robotics and drones, artificial intelligence, virtual reality, IoT and industrial control.
About FRAMOS
FRAMOS enables machines to see. Imaging and embedded vision technologies are their passion, they play a key role in automation, robotics and the IoT-connected factory and are key drivers in cognitive systems, the smart home, intelligent mobiles and autonomous vehicles. FRAMOS is a leading global supplier of imaging products, embedded vision technologies, custom solutions and OEM services. The vision experts have been assisting customers since 1981 as a technical consultant, development partner and external supplier selecting individual components, complex system compositions or customization options. They also provide individual technology, focusing on sensor modules and intellectual property, such as IP Cores, Imaging Algorithms and SoCs. From the sensor to the finished vision system, FRAMOS offers a powerful portfolio of imaging services and components with a range of capabilities to suit every budget. Strong brands combined with excellent technical support allow their customers to develop cutting-edge imaging and embedded vision systems and shorten their time-to-market. With a team of more than 100 employees working worldwide, they aim to find the fastest and most efficient imaging solutions for their customers.
Embedded Vision
This content is part of the Embedded Vision curated collection. To learn more about Embedded Vision,
click here
.