Meili Robots Offer Special Packages for Early-Stage Business
To accelerate market growth as well as to help fuel other fellow startups, Meili Robots has introduced a special package, particularly for early-stage businesses.
The age of the autonomous mobile robot has arrived, and businesses are seizing the opportunity to introduce mobile robots to their fast-growing e-commerce fulfillment, factories, or warehousing. With the increasing demand for automation solutions and the flourishing e-commerce industry, the global autonomous mobile robot market was recorded to have generated $29.3 billion in revenue in 2019. It is expected to reach $220.6 billion in 2030 — witnessing a CAGR of 18.3% during the forecast period (2020-2030) — according to ResearchAndMarket.com.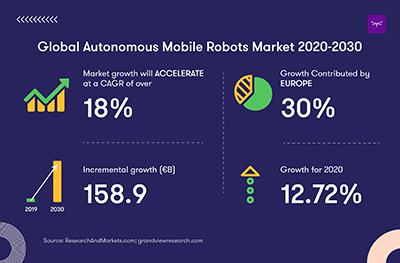 Owing to this fact, all around the world, not just large-scale corporations but also early-stage startups have followed in this footstep — especially with the emerging trend of 'diversifying your fleet' — driving significant innovations across the industry.
Our startup package is designed to equip businesses with everything they need to deploy mobile robots to current and upcoming projects or prototyping, thereby giving them a head start or leg up on the competition.
Contact us now to book a commitment-free consultation and let Meili Robots help you and your business.
Service Robots
This content is part of the Service Robots curated collection. To learn more about Service Robots,
click here
.