Meet The Sendix S36: One Motor Feedback System For All Servo Motors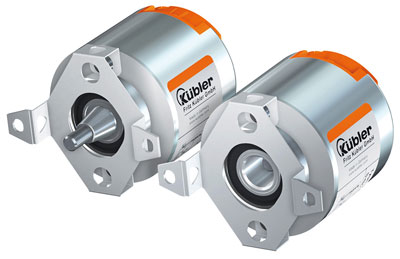 If you design and manufacture motors and drive systems, you know that factory automation and servo motors go hand in hand. Nowadays, you can expect to find servo motors running on more machine axes than ever in packaging, semiconductor manufacturing, robotics and other applications requiring precise positioning of a load. In fact, as automation continues to take over the factory floor, it's not surprising that the servo motor market is projected to grow as much as 10 percent a year.
This trend means you'll need a motor feedback system that can operate servo motors of various sizes, performance levels, electrical interfaces and technical requirements, such as high rotational speed and high temperatures.
Our new Sendix S36 motor feedback system meets these requirements-and more. Here's a rundown of what you can expect:
Compact size will save you space and cost. Drive systems are increasingly becoming more compact. With its space-saving 36-mm housing, the S36 is equipped to handle all singleturn and multiturn variants, as well as all medium to high power ranges. By reducing the number of motor variants, the S36 saves you space and operating costs.
High signal quality increases motor stability. Using phased array sensor technology, S36 devices achieve a resolution up to 2,048 ppr sin/cos or 24 bits (fully digital), ensuring high signal quality even in the presence of shock and vibration.
Robust design can take on harsh factory environments. The S36 is designed to reliably operate your motors in harsh, unforgiving environments. For one, it integrates our proprietary Safety-Lock™ design, which consists of interlocked bearings, strengthened outer bearings and large bearing size relative to the size of the encoder. This feature also enables the S36 to overcome two common threats to encoder lifecycle: heavy vibration loads and misalignment due to installation errors.
Other robust mechanical features include a wide temperature range, torque-proof stator coupling and vibration-proof plug connectors. The S36 also provides the latest in gear technology, which is preferred over a battery solution. Thanks to its three gear stages, the S36 achieves high rotational speeds, accurate positioning and long service life.
Interface variety gives you more flexibility than ever. No longer will the electrical interface be the limiting factor in the kind of feedback system you select for your drive application. S36 devices support all classical interfaces, including RS485 + Sin/Cos (HIPERFACE® compatible), BiSS, BiSS Safety, BiSS-Line and HIPERFACE DSL®, as well as open-source interfaces for the Single Cable Solution (SCS).
Here's a quick rundown of some of them:
HIPERFACE DSL®: Transmits data to the drive and enables motor-controller communication via two wires integrated into one motor cable up to 100-m long and requiring just one motor connection.
BiSS Interface: Hardware compatible to the Serial Synchronous Interface (SSI) standard, this interface includes a one-cable implementation.
SCS open link: A motor feedback interface for high-performance, bi-directional data exchange supporting 2- and 4-wire applications with cable lengths to 100 m. SCS also integrates future-proof technology, making it a compelling interface for advancing drive systems: it includes a fully digital protocol, is certified up to SIL3 and is Smart Motor-suitable.