Meet the Next Generation of Collaborative UR Robots at RoboBusiness
Universal Robots has released a new generation of robots, making it even safer for humans and robots to collaborate. The third generation UR robot arm to be showcased at RoboBusiness features eight new adjustable safety-rated functions, making it the only robot in the world that adapts advanced safety settings to each specific application. The new UR5 and UR10 robots also come equipped with True Absolute Encoders eliminating the need for re-initializing the robot, while enabling auto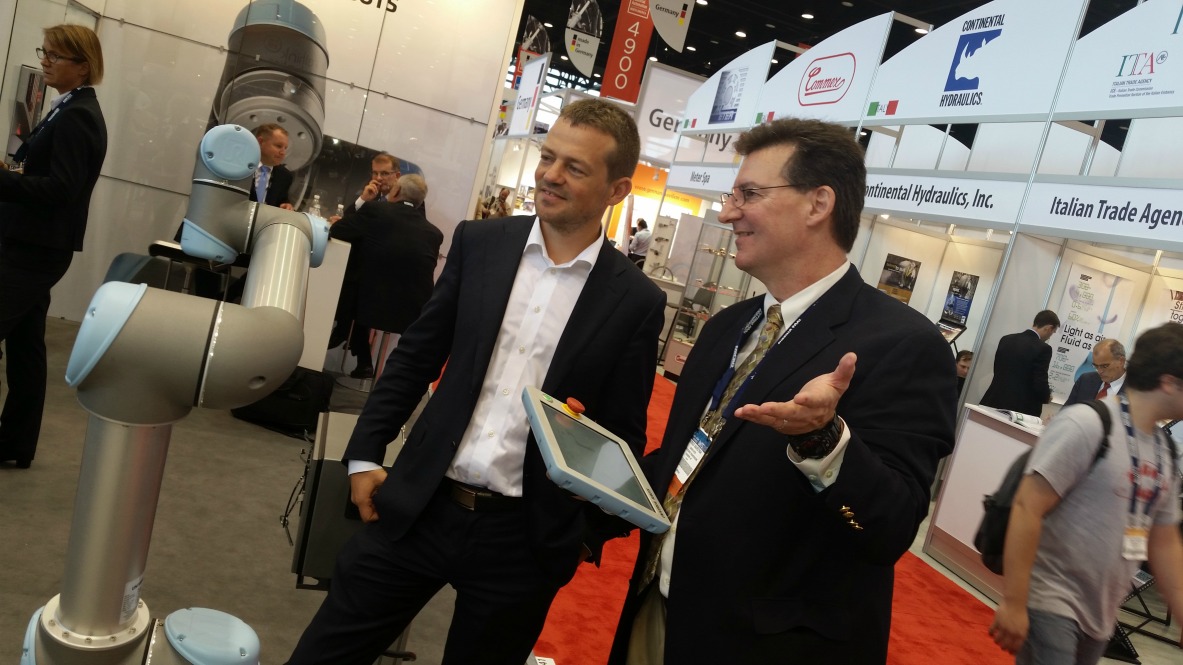 matic startup and easier integration into other machinery.

East Setauket, NY - With the new 3rd generation of UR robots now available to the North American market, Universal Robots is poised to continue to make robotics a viable option where both flexibility and safety are required. The new robots offer updated hardware technology and an improved safety system, which was recently awarded TÜV safety certification.
At RoboBusiness in Boston, October 15 – 17 attendees get the opportunity to program the UR robot with safety features that adjust to the context it operates within. CTO of Universal Robots, Esben Østergaard, explains that the patented new safety concept is a logical development of the Danish robot manufacturer's collaborative robot arms.
"When a human enters the robot's work-cell, the robot arm can operate in reduced mode, and then resume full speed when he leaves again. Or, the robot can run full speed inside a CNC machine for example, and then reduced speed when outside," says the Universal Robots CTO who is a panelist at RoboBusiness' Advanced Manufacturing Workshop: Collaborative Robots for Manufacturing: Use Cases and Ongoing Development.

To achieve a switch between normal and reduced safety mode, eight safety functions are monitored by the new patented safety system: Joint positions and speeds, TCP positions, orientation, speed and force, as well as the momentum and power of the robot. The settings can only be changed in a password protected area.
Knows its position upon power-up
Another key innovation of Universal Robots' new generation of collaborative robots is the True Absolute Encoders, allowing the robot to achieve faster start-up because its position is recognized upon power-up.

"With the integration of the True Absolute Encoder, our robot-arms can be integrated even more easily into other machineries while startup also becomes much faster and simpler for all applications," says Østergaard.
Unlike most other industrial robots with incremental encoders that work like absolute encoders, until the battery runs out, the encoders in the UR robots are not battery driven, therefore named "True Absolute Encoders" eliminating the need to frequently re-initialize the robot arms since their position in space is known despite the robot not requiring battery power to achieve this function.

Based on user feedback
Though the robot arms UR5 and UR10 are now equipped with numerous new features, Universal Robots remains true to its approach of user-friendly, lightweight robots. The visual appearance of the six-jointed UR5 and UR10 robot arms, with a payload of 5/10 kilos respectively, remains unchanged. But inside of the robot arm itself, as well as in the controller, are more hidden surprises; Sixteen additional digital I/Os doubles the number of built-in I/Os which are easy to configure either as digital signals or as safety signals. The control box has a revised design and a rebuilt controller to further improve the possibilities for connecting equipment to the control boxes.

"We are the only manufacturer of lightweight robot arms with a long lasting experience in a wide variety of industries. Our R&D department worked hard in order to integrate input and feedback from end users into our product development," comments Enrico Krogh Iversen, Universal Robots CEO, on the latest development from Denmark.
"With our flexible robot-arms, we address a broad target group – whether it is (un-)loading of CNC machines in a ten-man firm or a gluing-process at an automotive manufacturer, everyone benefits from our robots. Because they perform the dull or harmful jobs that needed to be done by humans before," says Iversen.

All the new features of the 3rd generation robots have been certified by TÜV (Technischer Überwachungs-Verein - a German organization that work to validate the safety of products) and tested in accordance with EN ISO 13849:2008 PL d and EN ISO 10218-1:2011, Clause 5.4.3.
Universal Robots
Universal Robots is a result of many years of intensive research in robotics. The product portfolio includes the UR5 and UR10 models that handle payloads of up to 11.3 lbs. and 22.6 lbs. respectively. The six-axis robot arms weigh as little as 40 lbs. with reach capabilities of up to 51 inches. Repeatability of +/- .004" allows quick precision handling of even microscopically small parts.
After initial risk assessment, the collaborative Universal Robots can operate alongside human operators without cumbersome and expensive safety guarding. This makes it simple and easy to move the light-weight robot around the production, addressing the needs of agile manufacturing even within small- and medium sized companies regarding automation as costly and complex. If the robots come into contact with an employee, the built-in force control limits the forces at contact, adhering to the current safety requirements on force and torque limitations.
Intuitively programmed by non-technical users, the robot arms go from box to operation in less than an hour, and typically pay for themselves within 195 days.
Since the first UR robot entered the market in December 2008, the company has seen substantial growth with the robotic arms now being sold in more than 50 countries worldwide. The company is headquartered in Odense, Denmark where all development and production is carried out. The company's global sales target for 2014 is 2,000 robots followed by a doubling of sales every year from 2014 to 2017.
www.universal-robots.com
Product photos, brochures, and videos:
http://www.universal-robots.com/GB/Press.aspx
Company Contact:
Edward Mullen, Universal Robots
National Sales Manager, North America
Tel: +1 631 610 9664+1 631 610 9664
Press Contact:
Mette McCall, McCall Media
PR and Marketing Manager, North America
Tel: +1 415 847 8649+1 415 847 8649