MC Works64™ Software Suite
Software suite improves visibility of manufacturing operations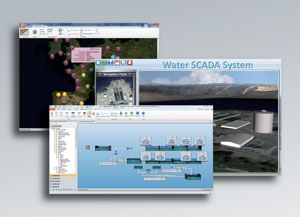 VERNON HILLS, Ill. – Addressing the growing customer demand for engaging, three-dimensional graphic visualization of business processes, Mitsubishi Electric Automation, Inc., announces the release of MC Works64, a PC-based supervisory control and data acquisition software suite that improves the visibility of manufacturing operations. Graphical user interfaces, alarm and event management, and data logging and trending are core features supported by the MC Works64®.
Other key features of MC Works64 include:
Vector-based 2D and 3D graphics to contextualize data
Visibility for geographically dispersed assets
Grid visualization of large data sets
Advanced application event scheduling
Centralized configuration and runtime interface
OPC-UA connectivity offering universal connectivity to data
MC AppBuilder, a component of MC Works64, combines database technology with a user-friendly web interface to associate graphic symbols, faceplates, control programs and various types of communication interfaces into a single location. Aggregating this data into a common database automatically generates monitoring screens, PLC programs and OPC communication settings.
MC AppBuilder is expected to substantially reduce engineering and system setup costs for system integrators. And with MC Works64, executives can enjoy real-time data exchange with the factory floor from their mobile devices, while plant managers will be able to minimize downtime, reduce operating cost and improve operational efficiency.
"MC Works64 is an advanced HMI/SCADA solution, but unlike other similar offerings, it is extremely easy to use. The user-friendly interface allows developers to get their HMI/SCADA system up and running in a minimal amount of time," said Agnieszka Zupancic, Solution Marketing, Mitsubishi Electric Automation, Inc. "Whether the user will monitor and control industrial and manufacturing processes at a single site or on a global scale, MC Works64® is a great solution."
Additional information about MC Works64 and Mitsubishi Electric Automation's comprehensive line of factory automation products and solutions is available.
Mitsubishi Electric Automation, Inc.
Headquartered in Vernon Hills, Ill., Mitsubishi Electric Automation, Inc., offers a wide range of factory automation products, solutions, training and support services for the industrial and commercial sectors. A U.S. affiliate company of Mitsubishi Electric Corporation, Mitsubishi Electric Automation represents more than 75 years' experience in the automation industry. A broad product portfolio includes programmable automation controllers (PAC), programmable logic controllers (PLC), human machine interfaces (HMI), variable frequency drives (VFD), servo amplifiers and motors, control software, computerized numerical control (CNC), circuit breakers, robots and motion controllers. The company takes its motion control solutions on the road with the 53-foot long Solutions in Motion mobile showroom that appears at tradeshows, training seminars and other events across North America. Additional information about Mitsubishi Electric Automation is available at http://us.mitsubishielectric.com/fa/en.
In addition to factory automation, Mitsubishi Electric US group companies' principal businesses include semiconductor devices, automotive electrical components, elevators and escalators, heating and cooling products, solar modules, electric utility products, and large-scale video displays for stadiums and arenas. There are 50 locations throughout North America with approximately 3,600 employees.