Maxon's New EC-max 16 2-wire Motor
Long service life, easy to use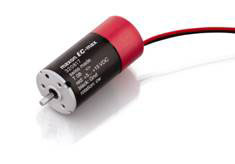 Fall River, MA —Maxon's new EC-max 2-wire motor with its ironless winding of System maxon® offers important physical advantages. The motor turns detent-free and is highly efficient. The stainless steel motor housing, when combined with the metal flanges, provides a high degree of temperature stability, good heat elimination and excellent shielding against electrical fields. Highly automated production processes mean that the motors have an excellent price/performance ratio.
The integrated electronics allow direct control with an operating voltage of between 5 and 15 volts. The motor turns proportionate to the applied voltage with the relevant speed in a given direction. The electronics have protective circuits to protect the motor against polarity reversal, overheating, axle blocking and under-voltage.
With a nominal output of 5 Watts, the motor generates continuous torque of up to 3.4 mNm. A 16 mm diameter planetary gearhead can be added to increase inertia up to a maximum of 0.3 Nm. The motor can be used in any application where a long service life but simple/compact controls are required in the same size product, such as hand-held tools or space-saving automation systems.
More information on the EC-max 16 2 Wire Motors can be viewed at-

http://www.electromate.com/products/series.php?&series_id=101886

EDITORIAL CONTACT:
Mr. Warren Osak
Phone: 905-850-7447
Toll Free Ph: 877-737-8698
Fax: 905-850-7451
Toll Free Fax: 877-737-8699