maxon's EPOS2 50/5 positioning controller
At the right place at the right time.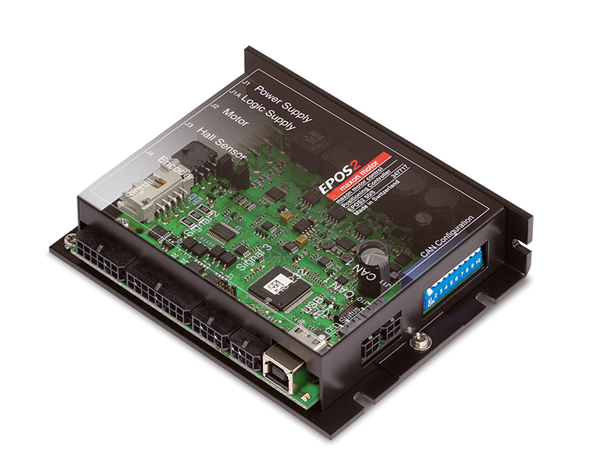 maxon motor launches a new intelligent positioning controller.

A 2nd generation of the family of intelligent positioning controllers EPOS (Easy to use POSitioning System) is already emerging. EPOS2 is the name of the new product from the maxon motor control range - a digital positioning controller designed to control brush and brushless DC motors with encoder.

maxon EPOS positioning controllers are the ideal choice for applications that require decentralized drive intelligence. These modular digital positioning controllers, based on CANopen standard, cover a performance range from 1 – 700 watts. They can operate in position, speed and current control mode, and can be configured to operate with both DC and EC motors, depending on software commands. A variety of operating modes means that they can be used flexibly in every kind of drive system in automation technology and mechatronics.

The new EPOS2, with 32-bit digital signal processor technology, supports the very best motion control functionalities. Complex mathematical algorithms can therefore be carried out efficiently. This produces excellent control characteristics. The new EPOS2 offers excellent security and effective protection against electromagnetic interference as a result of potential-separated digital inputs and outputs. Thanks to interpolated position mode (IPM), the EPOS2 is able to synchronously run a path specified through interpolation points dynamically and accurately. With a suitable master, coordinated multi-axis movements and any profile can be carried out in a 1-axis system. The upgraded regulation tuning functionality is an effective and time-saving tool for adjusting power, speed or position control. It is also easy to use and significantly simplifies set-up of the new positioning controller.

Online commanding is carried out using CAN Master (EPOS P, SPS, Soft SPS, etc.) or PC via USB or RS232 interface A USB to CAN and RS232 to CAN gateway function has also been integrated. Several drives can be networked and coordinated through the standardized CANopen interface. The compact design of the new EPOS2 50/5 means it can be used in areas such as tool building, production machinery, automation tasks and anywhere requiring decentralized drive intelligence.

Comprehensive documentation and software are included with every delivery, and are also available for you to download from our website at www.maxonmotorusa.com.