maxon's EC 25 Brushless High Speed DC Motor with 250 Watt Power Output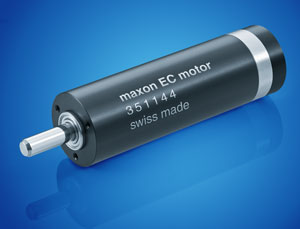 Maxon motor introduces the brushless EC 25. Designed for high speed applications of up to 70,000 rpm and has an extremely low vibration characteristic and minimized scale. The motor is equipped with preloaded ball bearings and a two pole Neodymium permanent magnet.
The motor measures at Ø25 x 84 mm and is rated for nominal voltage of 36 VDC and reaches a nominal torque of up to 42.2 mNm, nominal speed 61,600 rpm with efficiency above 93%. The motor-specific speed/torque gradient amounts to 44.9 rpm/mNm.
This EC25 motor is particularly suitable for high speed spindle-driven applications, as required in medical technology (surgical power tools, dental drills, etc.) or machine tools (manufacture of optical lenses, fabrication of printed circuit boards, etc.).
For fast-rotating applications, a friction-reduced, low-vibration operation over the entire speed range is necessary. This can only be achieved with high-precision balancing and preloaded ball bearings.