maxon motor Unveils the World's Smallest Inductive Encoder
rong>Revolutionary and robust – MILE encoder.

Small, robust and accurate, maxon motor's inductive micro encoder is a milestone in encoder technology with a diameter of 6mm.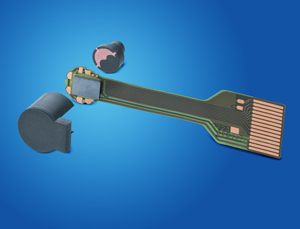 The general basis of inductive encoders is that the inductance of one or more coils changes in relation to the material used. For example, a semi-circular iron core representing the material measure could be directed to a coil which then changes its inductance. However, there are drawbacks to simple inductive encoders, such as the temperature dependence of the soft iron/ferrite. External magnetic fields can also change the permeability of the material used, well below saturation point.

This is why highly accurate inductive encoders are ironless. The contrast is generated with eddy currents. These encoders have long been featured in large motors, but have not been produced for micromotors until now. maxon motor has invested heavily in the development of these greatly miniaturized inductive encoders. The result is the MILE, an inductive encoder where the contrast is generated with eddy currents. maxon's Inductive Little Encoder is the smallest of its kind in the world.

The new MILE encoder delivers 64 pulses at up to 120,000 rpm, has 3 channels, line driver and integrated commutation outputs. Typical areas of application are medical technology, robotics and industrial applications in harsh environments. The MILE is available in combination with the EC6 brushless DC motor, extending the length of the combination by only 1mm.