maxon motor's EPOS (Easy to Use Positioning System) is Again Pushing Forward
rong>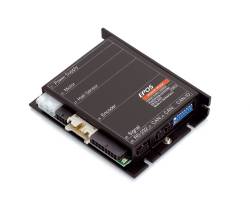 What you expect from a positioning control unit. And a whole lot more.

EPOS2 lives up to its name. In its second generation, maxon motor's EPOS (Easy to use Positioning System) is again pushing forward. Thus, EPOS2 24/5 perfectly integrates into the existing series and impresses with its further extended range of functionalities. It is designed to control brushless DC motors with encoder or brushless EC motors with Hall sensors and encoder of 5 to 120 Watt.

As all other products of the EPOS series, EPOS2 24/5 has also been developed to command and control within CANopen frameworks (while USB and RS232 are available, too). The unit is packed with a wide range of functions and features and can handle a multitude of operational modes (Position, Velocity, Current Mode and others) thus permitting flexible employment of drive systems in automation and mechatronics. Among other functions are «Step/Direction Mode» for step-by-step movement of the motor (as a replacement for a stepper motor) or «Master Encoder Mode» for the drive's use as electronic gearhead. Commanding via an analog set value voltage can replace conventional servo amplifier applications.

EPOS2 24/5 features 32-bit Digital Signal Processor Technology permitting outstanding Motion Control functionalities. Now, complex mathematic algorithms can be efficiently executed, thus resulting in improved control characteristics. The encoder input offers a resolution of up to 2 500 000 increments and an input frequency of up to 5 MHz. Due to «Interpolated Position Mode» (PVT) the positioning unit is capable to synchronously run a path specified by interpolating points; this with great dynamics and high accuracy. Coordinated multiple-axes movements within a master system or any profile within a single-axis system can also be executed. During commissioning, «Regulation Tuning» permits an extremely efficient adjustment of current, velocity or position regulation. Its integration into the graphic user interface «EPOS Studio» allows fast parameterization.

The unit can be controlled by means of a CAN Master (for example EPOS P, PLC, Soft PLC) or with PC via USB or RS232. The standardized CANopen interface permits integration and coordination of several drives. Additionally integrated gateway functions (USB-to-CAN, RS232-to-CAN) facilitate the access to CAN frame-works once more.

Extended features. Versatile communication and control. Reliable functionalities backward-compatible compiled. Or, in other words; «EPOS2 24/5».

An all-inclusive technical documentation, the graphic user interface «EPOS Studio», libraries for CAN Masters and Windows© DLLs, including programming examples can be downloaded from the Internet http://www.maxonmotorusa.com/ or eShop shop.maxonmotor.com free of charge.