Matrox Imaging Now Offering Professional Services to Assist with Project Development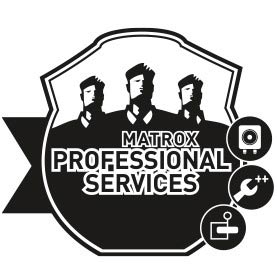 MONTREAL, Quebec — Matrox® Imaging is pleased to announce their new Matrox Professional Services offering. Backed by Matrox Applications Engineers and the Matrox Vision Squad—a team of high-level vision professionals—Matrox Professional Services offer in-depth support to customers, helping to recommend best methods and practices, and guide customers through their vision project development. These services aim to help customers save valuable development time and deploy solutions more quickly.
Proactive, planned, personalized and purchased
Matrox Professional Services comprise a full range of expert-driven technical support, including:
Personalized remote or in-person training at Matrox Imaging headquarters or customer site
Assessing application or project feasibility, including illumination, image acquisition, and vision algorithms
Demonstrating and/or prototyping applications and projects
Optimizing and/or troubleshooting user applications and projects, including remote debugging
Video and camera interfacing
With a dedicated Vision Lab—equipped with state-of-the-art lighting, image capture, and computational tools—as well as an Online Technical Services facility featuring video conferencing stations that allow support staff to interface easily and directly with customers, Matrox Professional Services is poised to provide even greater assistance to Matrox Imaging's valued customer base.
"Our team of engineers, programmers, and technicians are here to deliver a depth of expertise and experience that customers might not otherwise have access to," says Robert Rochon, applications engineering manager, Matrox Imaging. "With these proactive offerings, customers can seek out the type of support needed, from a simple remote demonstration to comprehensive assessment of their project's feasibility, and be guided through their unique situation by an experienced vision professional."
Availability
Matrox Professional Services are now available for purchase. For information on pricing and scheduling, contact a Matrox Imaging sales representative.
About Matrox Imaging
Matrox Imaging is an established and trusted supplier to top OEMs and integrators involved in machine vision, image analysis, and medical imaging industries. The components consist of smart cameras, vision controllers, I/O cards, and frame grabbers, all designed to provide optimum price-performance within a common software environment. For more information, visit www.matrox.com/imaging.