Matrox Imaging Introduces Next-Generation Smart Camera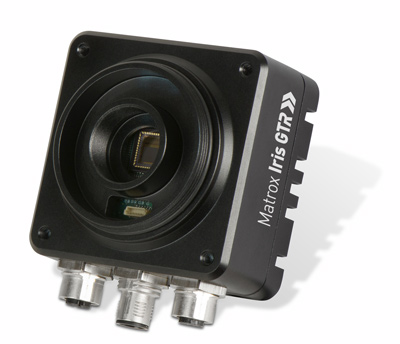 Matrox Iris GTR is smaller, faster, more cost-effective and ideal for factory automation applications
MONTREAL — Matrox® Imaging today announced the Matrox Iris GTR smart camera. Smaller, faster and more cost-effective than its predecessor Iris GT, the new Matrox Iris GTR is designed for systems integrators, machine builders and OEMs of factory automation solutions.
Iris GTR measures just 75mm x 75mm x 54mm allowing it to fit into tight spaces. It uses On Semiconductor® PYTHON CMOS image sensors with high readout rates and an Intel® Celeron® dual-core embedded processor that allow it to inspect on faster moving lines or perform more inspections in an allotted time. Its IP67-rated housing and M12 connectors make Iris GTR dust-proof, immersion-resistant, extremely rugged and right at home in dirty industrial environments. It comes pre-installed with Microsoft Windows Embedded Standard 7 or Linux, giving developers the choice between the two prominent environments for running their vision application software.
"Our customers developing automated visual inspection applications are always looking to increase throughput, boost performance and reduce costs," said Fabio Perelli, Product Manager, Matrox Imaging. "We've taken their feedback and packed the new Matrox Iris GTR with the features they need to tackle demanding projects within tight budgets."
"At SVIA, our goal is to support manufacturers in their efforts to make themselves more competitive through automation using our standardized, flexible, user-friendly, robotic solutions", said Matthias Grinnemo, Technical Manager, SVIA. "As a long-time user of Matrox smart cameras, we look forward to the new Iris GTR, which is sure to help us further out commitment to helping customers minimize the cost per part produced in their factories."
The Iris GTR line offers a choice of monochrome and color image sensors with resolutions from VGA to 5 Mpixels. A dedicated LED intensity control interface simplifies setup and use of the overall machine vision system by enabling integrating illumination regulation via an application's user interface. A dedicated interface for controlling a Varioptic Caspian auto focus lens also facilitates setup, use and maintenance by enabling focus position adjustments via an application's user interface. Eight real-time GPIOs with rotary encoder support give Iris GTR the means to tightly follow and interact with fast moving production lines and equipment. In addition, a Gigabit Ethernet interface allows the smart camera to efficiently output data including images over factory networks.
Availability
Matrox Iris GTR will be available in May 2016; initially for running application software developed using the field-proven Matrox Imaging Library (MIL) vision software development kit. It will also be available at a later date with the Matrox Design Assistant flowchart-based integrated development environment (IDE).
About Matrox Imaging
Established in 1976, Matrox Imaging is a leading developer of component-level solutions for machine vision, image analysis and medical imaging. Products include frame grabbers, vision processors, imaging computers, smart cameras and application development software. Headquartered in Montreal, Quebec, Canada, Matrox is a privately held company with offices in the United Kingdom, Ireland, Germany and Hong Kong.
Company Contact
Janet Matey, Media Relations Manager
Tel: +1 (514) 822-6037
Embedded Vision
This content is part of the Embedded Vision curated collection. To learn more about Embedded Vision,
click here
.